Dinner Idea: Kimchi Fried Rice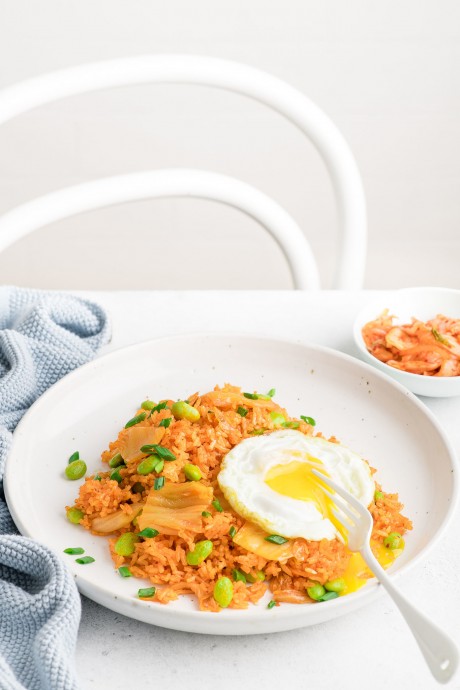 A quick and tasty Kimchi Fried Rice. Perfect for weeknight dinners, and it takes only 20 minutes to make! Kimchi is fermented cabbage with a mix of spices and seasonings, including, garlic, ginger and chillies. Some kimchi recipes also include carrots and/or radishes. There are, in fact, many variations of kimchi, including many different spice levels of kimchi. So you may have to shop around until you find a brand which you and your family enjoy. For any fried rice dish, it is usually best to use leftover cooked rice because it tends to have a drier texture, which means that the cooked rice grains will separate easily upon frying, and which makes for a good fried rice.
To make Kimchi Fried Rice, you need just kimchi, rice and spicy sauce. But a few extra ingredients will make this simple dish taste fabulous! Make this dish in less than 20 minutes! Kimchi is good for your gut health, plus it is delicious!
Ingredients:
1–2 tablespoons vegetable oil
1 cup kimchi, chopped if you prefer small pieces
2–3 spring onions (scallions), finely sliced (or substitute with a shallot or small onion)
2–3 cups cooked leftover rice
1–2 tablespoons gochujang (Korean chilli paste), or to taste
1 tablespoon soy sauce or tamari
1 cup edamame beans, fresh or frozen
fried eggs