Keto Bacon Cheeseburger Pizza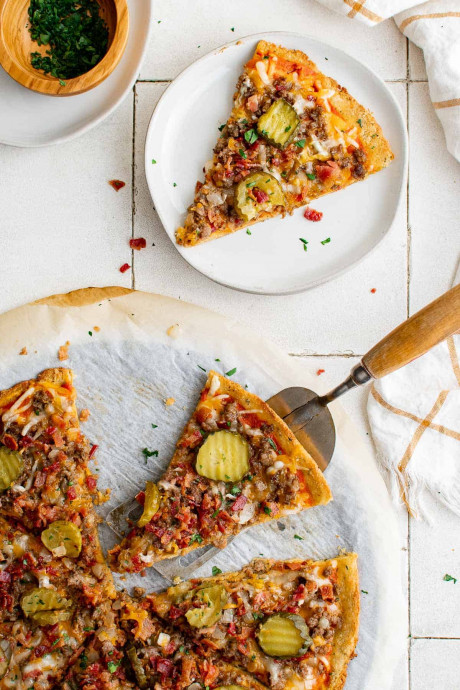 What is better than eating a juicy cheeseburger or a fresh, hot slice of pizza? Combining the two of course! This Keto Bacon Cheeseburger Pizza Recipe checks both of those boxes. Low carb and gluten free pizza crust, topped with homemade pizza sauce, a mix of cheeses, perfectly seasoned ground beef, crispy bacon, onions, garlic, tomatoes and even pickles. Yes! Pickles on pizza. Just trust me on this one.The low carb pizza crust is made of a pretty traditional fathead dough - almond flour, cream cheese, mozzarella cheese, egg, and spices.You can't really have a bacon cheeseburger pizza without the burger part! That being said, this is also delicious with ground turkey, chicken, or even bison.
It's the chefs choice when it comes to cheese. I like to use a mix of sharp cheddar and mozzarella, but this keto pizza is delicious with just about any kind of cheese. For a true cheeseburger experience, try topping it with slices of American cheese.
Ingredients:
FOR THE CRUST
1 ½ cup mozzarella cheese, shredded
3 tablespoons cream cheese
1 large egg
¾ cup blanched almond flour (I use this brand)
1 teaspoon garlic powder
1 teaspoon onion powder
1 teaspoon Italian seasoning
1 teaspoon sea salt
½ teaspoon black pepper
FOR THE TOPPINGS
½ cup low carb pizza sauce
2 teaspoons yellow mustard
½ pound ground beef
2 cloves garlic, minced
½ cup diced onion (about 2.5 oz)
4 slices bacon, cooked crisp and crumbled
15 dill pickles slices
1 ½ cups shredded cheese (I used a combination of sharp cheddar and mozzarella)