Spicy Peanut Chicken Quesadillas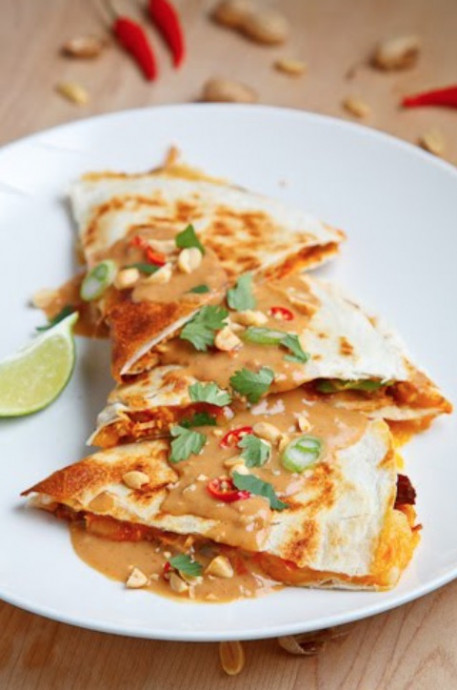 A chicken quesadilla with a spicy Thai style peanut sauce and plenty of ooey gooey melted cheese.
After making the chicken satay burgers earlier in the week I had some of the spicy peanut sauce leftover and I was just itching to use it in something new. The spicy peanut sauce along with the sweet chili sauce have to be two of my favourite condiments and I have found that in a lot of cases that where one works in a dish then the other can just as well. Since I was still thinking about the sweet chili chicken quesadilla from not too long ago, it was only natural that I thought about trying a spicy peanut chicken quesadilla next. These quesadillas are dead easy to throw together and you simply need tortillas, some leftover chicken and plenty of cheese to go along with the peanut sauce. After throwing the quesadillas together they only need a few minutes on the heat to grill them up until the cheese melts and they turn a nice light golden brown. It is hard to believe that in less than 15 minutes you can be enjoying bliss on a plate!
Ingredients:
1 (10 inch) tortilla
1/4 cup monterey jack cheese, shredded
1/4 cup cheddar cheese, shredded
1/4 cup warm, cooked, shredded chicken
2 tablespoons spicy peanut sauce
1 green onion, sliced
1 tablespoon cilantro, torn