Fried Cabbage and Bacon Slaw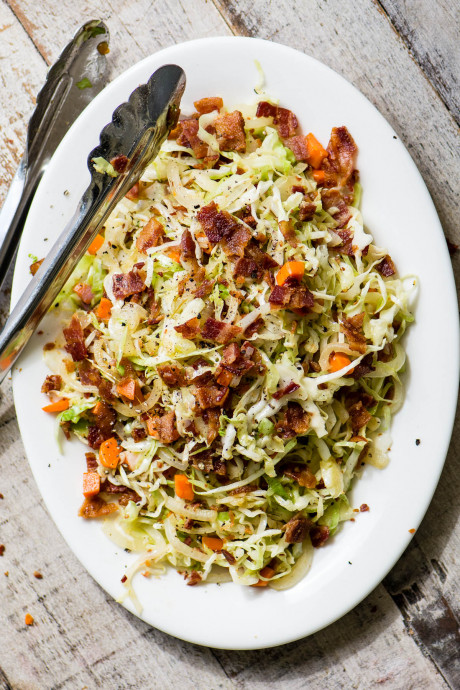 Fried Cabbage and Bacon Slaw ~ this warm bacon coleslaw has won our hearts this summer, and I have a feeling it's going to win yours too. Simple ingredients, fried up in a little bacon grease, and you've got a crazy good side that will improve on every darn thing you eat this summer. Put it alongside, over, under…doesn't matter, forks are gonna fly with this one!
What to serve with fried coleslaw?
I don't want to micromanage, but I highly suggest grilling up some brats to go along with. Any type of sausage, really. It works as a side with any type of grilled meat or poultry. And be sure to top any leftovers with a couple of fried eggs.
I think slaws are definitely under-appreciated for how easy they are to throw together, and how versatile they are. If you're still stuck in the green salad from a bag rut, check out my Five Slaws You Need in Your Life This Summer for some ideas to get you started. Slaws are bright, crunchy, and incredibly healthy (bacon notwithstanding) whether they're made with cabbage, onions, Brussels sprouts, kale, or a whole rainbow of veggies.
Ingredients:
12 ounces smoked bacon
1 small head green cabbage outer leaves removed and cored
1 small yellow onion peeled, halved, and thinly sliced.
1 medium carrot peeled and cut in small dice
salt and fresh cracked black pepper