Totchos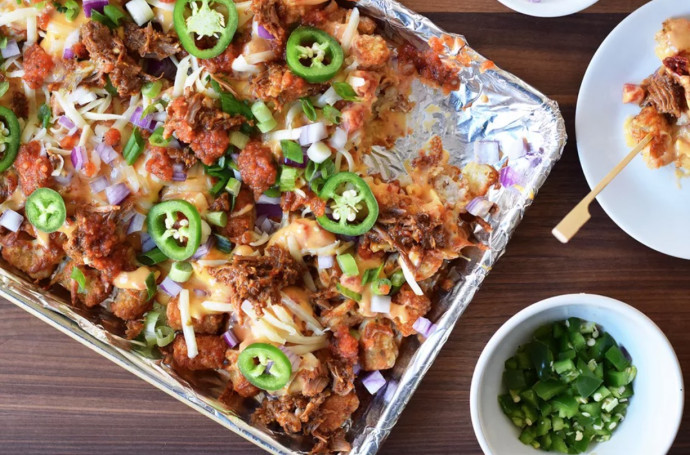 We've all heard of nachos, but totchos? It's like tater tots and nachos had a baby and, trust us, they're seriously out of this world.
Make a big tray for Sunday football or taco Tuesday. They can be a complete meal or a super hearty appetizer. To assemble, all you have to do is cover crispy tots in an easy homemade chipotle queso, tons of shredded pepper jack cheese, seasoned meat, salsa, scallions, and jalapeños. No one will be able to keep their hands off this tray of goodness and you're definitely going to need to pass around some forks and napkins—it gets messy in the best way.
The possibilities are truly endless with totchos because you can basically top them with anything savory. There are a ton of variations below, ranging from breakfast-style to Buffalo chicken. Try the traditional recipe and just mix up the meats—chorizo, shredded beef, chicken, and bacon are all great additions.
Ingredients:
1 (32-ounce) bag frozen tater tots
2 cups shredded pepper jack cheese
1 1/2 cups al pastor meat, or seasoned ground beef
2 to 3 jalapeños, sliced
1/4 cup diced red onion
1/3 cup salsa
1/4 cup sliced scallions
For the Chipotle Queso:
1 pound Velveeta cheese block
2 chipotle peppers
1 tablespoon adobo sauce
1 (10-ounce) can diced tomatoes and green chiles