Asparagus Salmon Foil Packets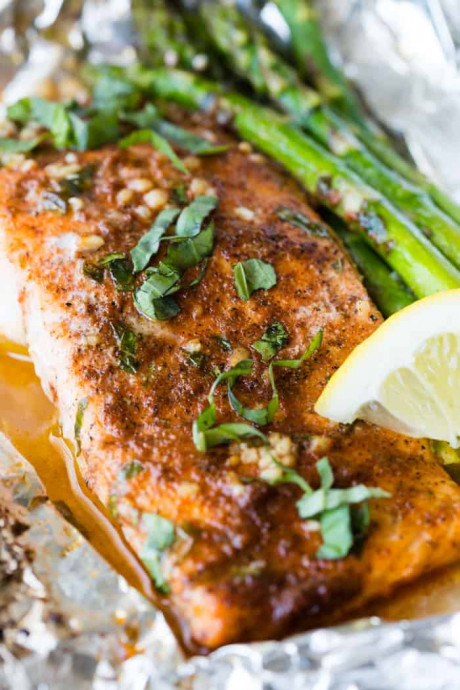 Salmon has never been easier to cook, nor has it ever tasted better, lightly seasoned, doused in herb butter, and wrapped up in a packet to bake in the oven. As an extra bonus, crunchy but tender asparagus cook right alongside the salmon so you have a complete meal and no mess.
Tender and flaky salmon with fresh asparagus all cooked in an herb butter sauce, on one sheet pan, wrapped in foil, makes this the ultimate meal.
Much like my favorite Hobo Dinner Foil Packets, these have so much flavor and so little mess. Oh and did I mention you can make it in under 30 minutes?
I love serving these easy salmon foil packets with a big Cucumber Avocado Salad for a totally fresh and flavorful meal. The great thing about foil packet meals is that they can be grilled, baked, or cooked over a campfire. So you have a lot of options. And the cook time will vary some based on where you are cooking it.
Ingredients:
4 salmon fillets
1 lemon sliced
1 teaspoon paprika
1 teaspoon garlic powder
1 teaspoon salt
1 teaspoon black pepper
1 pound asparagus spears ends trimmed
½ cup butter melted
1 lemon juiced
1 Tablespoon minced garlic
2 teaspoons fresh basil
Garnish
Fresh Basil
Lemon wedges