Cranberry Apple Crisp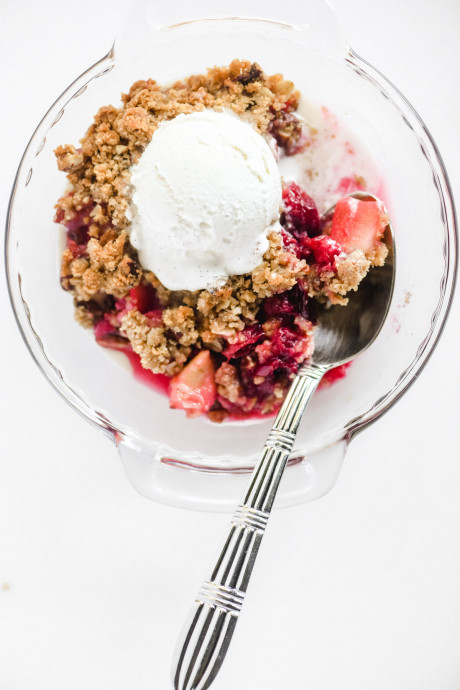 A cranberry apple crisp has all the hallmarks of an extra special fall dessert with juicy apples, tart cranberries, and a cinnamon-y oatmeal pecan crisp topping. This bright combination upstages a plain old apple crisp every time.
Let's break it down: first you get the aroma, fresh out of the oven, which is full-on fall/holiday and triggers all sorts of good feels. Then there's the winning flavor combination of tart cranberries paired with sweet apples, which keeps your tastebuds on their toes (do tastebuds have toes?) And let's not forget texture, which plays such a delicious role in a crisp ~ the cranberries pop open in the oven and become soft and luscious while the apples keep their shape and even retain a hint of crunch. Speaking of crunch, that topping…
Just look at it, those are the same brilliant colors of the fall leaves outside our window. How can you not love this dessert?
Served with a little fresh whipped cream or vanilla ice cream, a good fruit crisp rivals the fanciest dessert (read: definitely Thanksgiving worthy.) The little acidic punch from the cranberries make this one perfect after a heavy meal. And you can forget about runny pies and soggy crusts…a fruit crisp is just about foolproof.
Ingredients:
crisp filling
20 ounces peeled and chopped apples, this was about 4 medium-large apples for me. Chop them into approximately 1/2 inch pieces.
12 ounces whole fresh cranberries (you can use frozen if you like)
1/2 cup granulated sugar, or sugar substitute of your choice.
1 Tbsp vanilla extract
crisp topping
1/2 cup unsalted butter, softened
1 cup all purpose flour For a gluten free option try oat flour, almond flour, or your favorite gf baking mix.
1/2 cup light brown sugar, packed
1/2 tsp salt
1 tsp ground cinnamon
1/4 tsp ground cloves
3/4 cup chopped pecans
1/4 cup rolled oats