Keto Egg Roll in a Bowl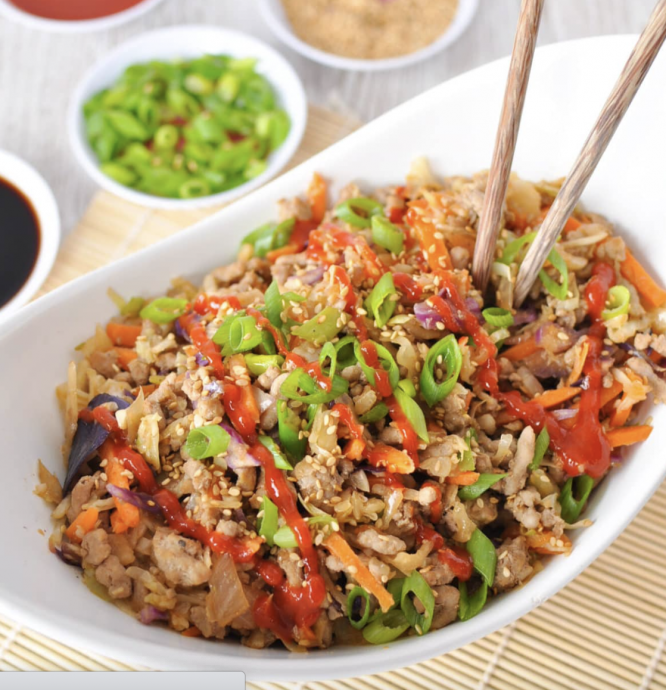 Keto Egg Roll in a Bowl is a quick and easy one pot meal, that can be ready in less than 30 minutes. It's also amazing for meal prep because it just tastes better and better as the days go on.
Keto Egg roll in a bowl is a staple in many low carb, keto and paleo diets. Quick and easy to prepare and packed with flavor. On the table in under 30 minutes, and it only dirties on pan. You can't beat that.
This recipe is also delicious with broccoli slaw, Shirataki noodles, a mix of coleslaw and broccoli slaw, chopped broccoli, cauliflower rice, or even a medley of your favorite vegetables.
You can use any ground meat you prefer - ground sausage, ground beef, ground chicken, and ground turkey are all excellent choices.
You wouldn't believe how often I get this question. This recipe is meant to be like a deconstructed egg roll. Egg rolls do not typically have eggs in them. However, this recipe is awesome with a yolky fried egg on top, or scrambled eggs mixed in.
Ingredients:
2 tablespoons toasted sesame oil
3 cloves garlic, minced
½ cup onion, diced
5 green onions, sliced on a bias (white and green parts)
1 pound ground pork (I get my pastured, organic, and grass-fed meat here)
½ teaspoon ground ginger
sea salt and black pepper, to taste
1 tablespoon Sriracha or garlic chili sauce, more to taste
14 ounce bag coleslaw mix (green cabbage, red cabbage and carrots)
3 tablespoons gluten free soy sauce or coconut aminos (get it here)
1 tablespoon unseasoned rice vinegar (get it here)
2 tablespoons toasted sesame seeds
Keto Yum Yum Sauce, for serving