Ground Beef Stroganoff Casserole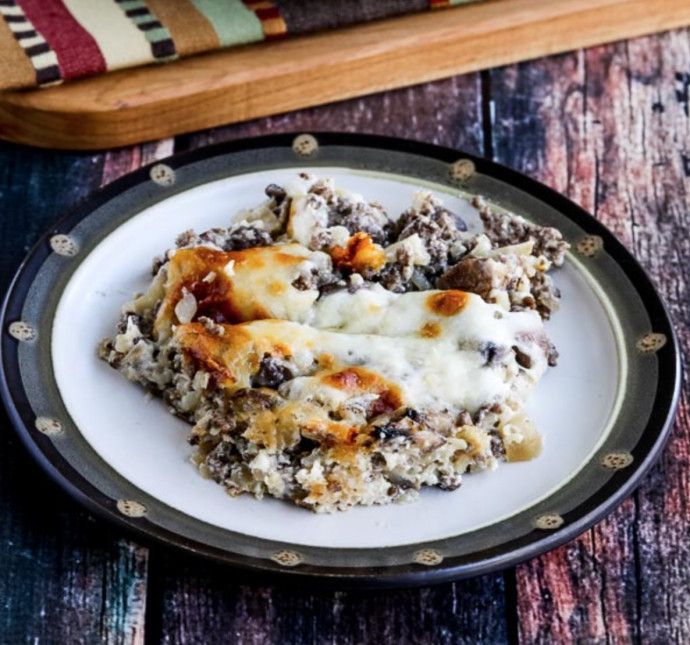 This low-carb Ground Beef Stroganoff Casserole uses cauliflower rice, and this has all the flavors people love in Beef Stroganoff! This is a dinner the whole family will love.
We used a few techniques in this recipe to add flavor and to get a version that wasn't watery. Sauteeing the cauliflower rice over very high heat to evaporate some of the water is a way to get rid of extra liquid, so please don't skip that step. And another step that might seem finicky is making a concentrated beef stock that's been cooked down so it's thick; then that gets mixed into the sauce. Again, please do not skip that step. This ground beef casserole is a casserole recipe with a few steps to put it together, but I promise it's worth the trouble, and it makes enough that you should have some leftovers!
The flavors in this recipe are inspired by Beef Stroganoff, a dish that was one of my favorites growing up. And although this is definitely not a classic Stroganoff recipe, I think the combination of beef, mushrooms, and sour cream delivered the flavors I loved so much as a child.
Ingredients:
1 1/2 lbs. ground beef
2 T olive oil
1 lb. mushrooms, washed, drained dry, and cut into quarters (I used brown Crimini mushrooms)
1 onion, chopped small
4 cups cauliflower rice (see notes)
1 tsp. steak seasoning
salt and fresh-ground black pepper to taste
1 cup grated Mozzarella
1 tsp. Better Than Bouillon Beef Base (or a beef bouillon cube) mixed with 1/4 cup water and then simmered to reduce to 1 tablespoon thick stock
1 cup sour cream
1/2 cup mayo
1 cup grated Mozzarella cheese
1/4 cup freshly grated Parmesan cheese
1/2 tsp. steak seasoning