The Best Stuffed Pepper Soup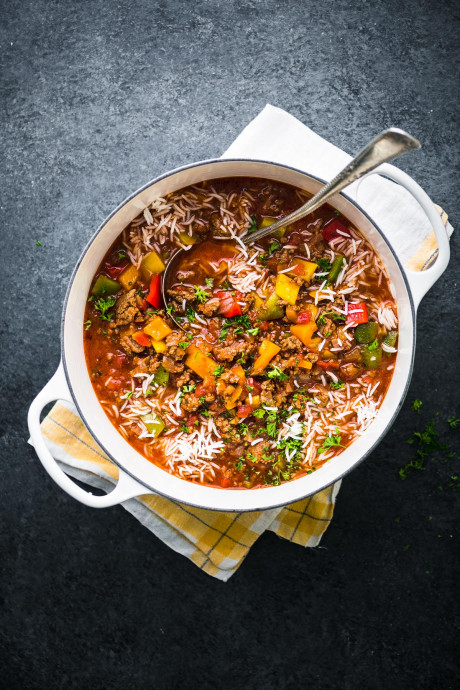 The Best Stuffed Pepper Soup ~ I'm craving comfy soups right now, and this one has all my favorite stuffed pepper flavors in one delicious slurp-able pot ~ with easy low carb, Whole 30, and Paleo options! This delicious meal can be ready in under an hour. Stuffed peppers are one of my personal favorite comfort foods, and I can honestly say that I enjoy the soup even more than actual stuffed peppers. It's lighter, more piquant, and the peppers stay colorful and crunchy. I've got some tips and tricks to making this one of the best soups you've ever had.
Making this soup ahead is actually my preferred method, it allows the flavors in the broth to develop.
Go through step 3 and then cool the soup and refrigerate. This can be done up to 2 days in advance.
When you're ready to reheat the soup, add the peppers and simmer for a few minutes until they're tender, they don't take long. (I like them with a little bit of bite left.)
Be sure to taste the soup before serving to adjust the seasonings. The soup will work great in a slow cooker, but I do like to brown my meat and onions first. Don't add the peppers until the last hour or they'll over cook.
Add the rice in at the very last minute before serving, or serve it on the side, so people can add it to their bowls separately.
Ingredients:
1 1/4 lb ground beef (80-85 % lean)
olive oil
1 large yellow onion, diced
4 cloves garlic, minced
15 ounce can of beef broth
15 ounce can of petite cut diced tomatoes
17 ounces tomato sauce (I use Pomi)
1 tsp Italian herbs
1 bundle fresh sage and oregano OPTIONAL
1 tsp paprika (use hot smoked if you like...I do!)
2 tsp Sherry vinegar
salt and black pepper to taste
2 large bell peppers, seeded and diced (I like to use multi colors for a beautiful effect in the soup)
2 cups cooked long grain rice
garnish
chopped parsley
grated Parmesan cheese