German Potato Soup (Kartoffelsuppe) with Bratwurst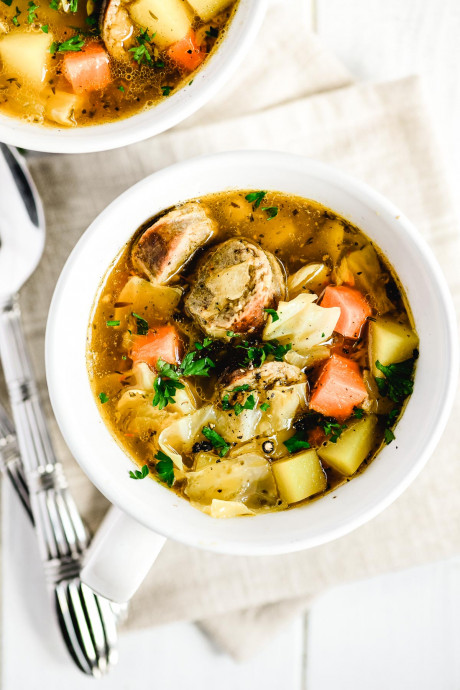 German Potato Soup with Bratwurst is an easy comforting recipe to add to your soup rotation this fall. It takes just 30 minutes to cook, and celebrates German cuisine, even if you can't get to Oktoberfest.
The annual Oktoberfest may have been canceled this year, but that doesn't mean we can't celebrate our own mini-fests, at home. This German soup is comforting, hearty (hello potatoes and brats) and perfect for the month of October. It offers up a new flavor profile and makes a nice change from the same old chicken or vegetable soup.
German food has a reputation for being heavy and fatty, but this soup is pretty light, with lots of veggies and not at all stodgy.
I'll serve our soup with a rustic loaf of rye bread, or bake up some quick buckwheat biscuits or dinner rolls. Browning the brats and then finishing their cooking in the broth gives this soup great flavor. The sausage makes this soup main course worthy. And this way, instead of a carb loaded bun, you can enjoy your brats in a bowl!
Ingredients:
2-3 bratwurst or other German sausage
olive oil
4 cups chicken stock
1/2 medium onion, peeled and diced
2 stalks celery, diced
2 carrots, peeled and diced
4 white waxy potatoes, peeled and diced
1/4 head cabbage, diced
2 bay leaves
1 tsp dried marjoram
salt and fresh cracked pepper to taste
chopped fresh parsley for garnish