Banana Cake with Cream Cheese Frosting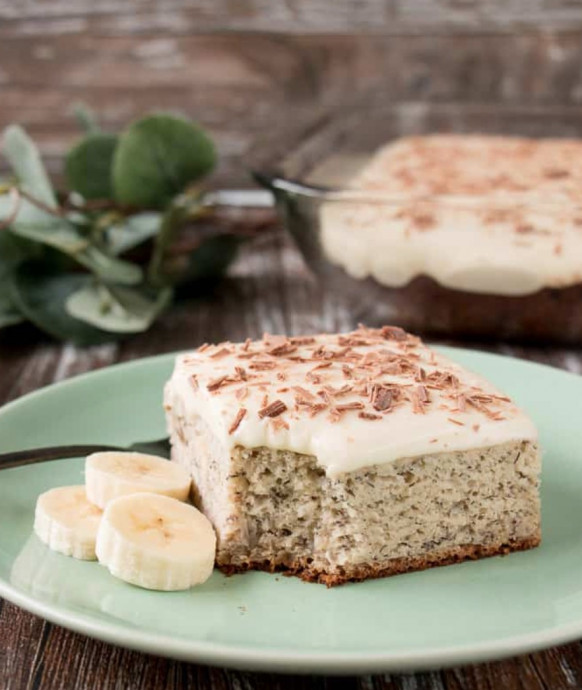 This decadent banana cake is supremely moist and loaded with banana flavor. It's easy to make and topped with a sweet-tangy cream cheese frosting. If you love banana bread then this cake is a perfect treat for you! I make banana bread regularly for the kids and myself. It makes for a great quick breakfast and/or snack. But on a special occasion or when we have company over, I like to make this banana cake as a treat. The taste is similar to a banana bread, however the cream cheese frosting just elevates the whole dessert and turns it into something outstanding.
The cake is quick and easy to make. There is only 1/4 cup of butter in it but it's still extremely rich and moist because of the sour cream and mashed bananas.
There is 1½ cups of bananas in this recipe, which makes it super flavorful.
The cream cheese frosting makes this everyday banana cake extraordinary. It adds an indulgence to the dessert, which makes it feel special.
Ingredients:
2 cups (250g) all-purpose flour
1 tsp (5ml) baking soda
1/2 tsp (2.5ml) salt
1 1/3 cups (265g) granulated sugar
1/4 cup (57g) unsalted butter, softened
1 cup (250g) sour cream
2 large eggs
1 1/2 cups (365g) mashed overripe bananas (about 3 large)
2 tsp (10ml) vanilla extract
Frosting
1/2 cup (114g) unsalted butter, softened
1 block (250g) cream cheese, softened
3 cups (375g) powdered sugar, sifted
1 tsp (5ml) vanilla extract
1/4 tsp (1.25ml) salt
Optional
chopped walnuts
chocolate shavings
banana slices