Gluten Free Banana Bread with Chocolate Chips & Walnuts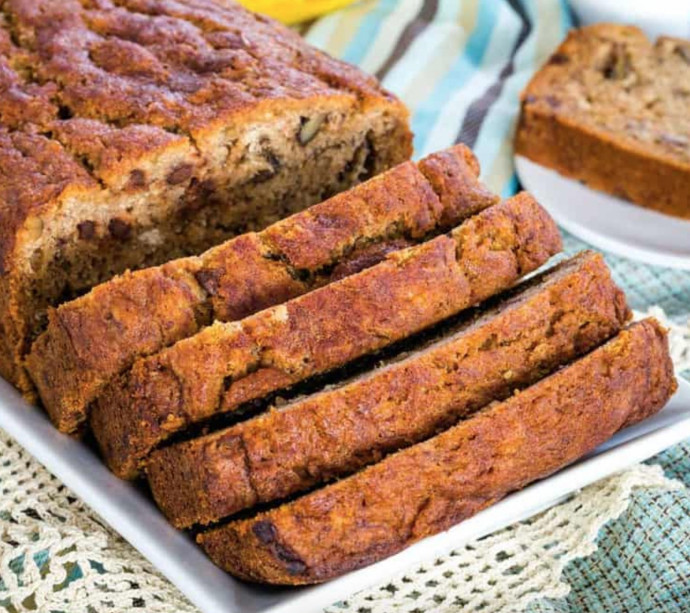 This easy Gluten Free Banana Bread recipe is filled with mini chocolate chips and walnuts. It is perfectly moist, sweet, and delicious! This recipe is practically foolproof, and it is freezer-friendly if you can actually keep the family from devouring the entire loaf instantly.
The King Arthur Flour recipe is made with a blend of all-purpose flour and whole wheat flour. But it says you can substitute their brand of gluten free flour blend in the recipe with no other changes needed. That was all I needed to read.
Except I didn't have King Arthur Gluten-Free Measure for Measure Flour, so I went with what I had. Guess what? It still worked perfectly!
If you read the notes in the original recipe, it suggests a ton of changes and suggestions you can make. I took a look at this and realized that this must be a pretty foolproof recipe.
Ingredients:
2 cups mashed overripe bananas (about 4-5)
1/3 cup unsalted butter, melted and cooled
1/3 cup pure maple syrup
1/4 cup brown sugar
2 eggs
1 teaspoon vanilla extract
2 cups one-to-one gluten free baking flour (tested with Bob's Red Mill 1-to-1 Gluten Free Baking Flour. See Note for other flour options)
1 teaspoon baking soda
1/2 teaspoon baking powder
3/4 teaspoon salt
1 teaspoon cinnamon
1/4 cup old-fashioned oats (certified gluten free, if necessary. Can also be omitted if you are sensitive to oats.)
1/4 cup chopped walnuts
1/4 cup mini chocolate chips
1/2 Tablespoon granulated sugar
1/4 teaspoon cinnamon