Rice Krispie Treats (Rice Crispy Bars)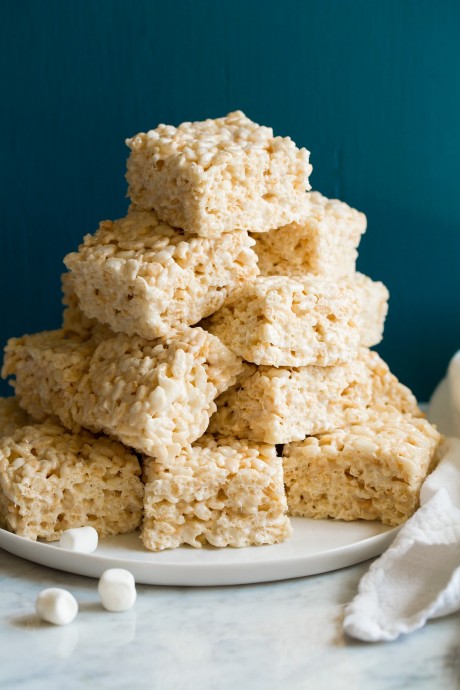 Homemade Rice Krispie Treats! Made with the perfect amount of cereal, marshmallows and butter. The fastest, no-bake treat that never disappoints! Only 3 basic ingredients needed to make these: Rice Krispies cereal, a crucial ingredient to this recipe. Mini marshmallows: An equal weight of large marshmallows can be used as well, just keep in mind they'll take longer to melt.
Salted butter: I like to use salted butter to balance out all the sugar of the marshmallows (there's almost 1 1/4 cups sugar in the marshmallows so without the proper amount of salt they'll be way too sweet). If unsalted butter is all you have on hand then dissolve 1/4 tsp salt with the butter when melting. If you don't like very sweet treats then you can up the rice krispie cereal amounts to 10 cups to stretch those sugars out.
Drizzle or spread a thin layer of melted chocolate over the top or try them with peanut butter. Serve with tea or coffee. Once you try them this way you'll likely never look back! These addictive treats are just too good! Rice Krispies treats can be kept in an airtight container at room temperature up to 3 days.
Ingredients:
1/2 cup (226g) salted butter, diced into 1 Tbsp pieces
1 (16 oz) bag mini marshmallows (10 cups)
7 cups (210g) Rice Krispies cereal