Breakfast Tostada Stacks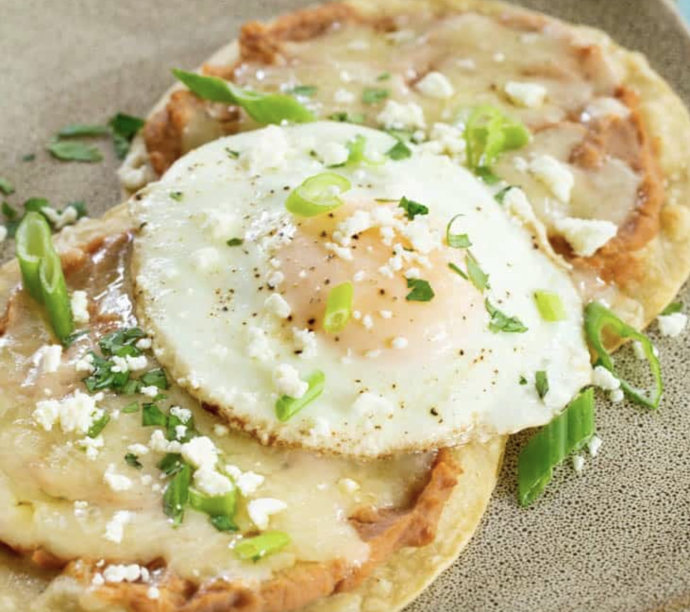 Breakfast Tostada Stacks are an easy recipe made with refried beans, melted cheese, and soft fried eggs layered on top of crisp tortillas. Ready in ten minutes, you can even make this breakfast tostada recipe on busy mornings for a protein-packed way to start the day, but this vegetarian meal also makes a delicious weekend brunch or even weeknight breakfast for dinner. So versatile, by using your favorite cheese and other toppings, you can easily customize these breakfast egg tostadas to make them a favorite family meal in your house.
Breakfast Tostada recipe tips…
If you can't find tostada shells, you can use corn tortillas to make soft tacos like these Salsa Egg Tacos. You can also lightly brush the tortillas with oil or spray with cooking spray and crisp them up in a 350°F oven for 3-5 minutes per side to make your own tostada shells.
Open up a can of your favorite refried beans (or make your own refried beans if you like) and smear on the tortillas. You can choose vegetarian beans if you want to keep this meatless. No need to even heat them up because they will warm up in the oven. Then just top with shredded pepper Jack or Colby Jack cheese (or cheddar, if that's what you like) and pop the breakfast tostadas in the oven until the cheese melts.
During that time, cook up a few fried eggs. I love Mary's tip of adding a tablespoon of water and covering to cook the yolk as runny or firm as you like it and to help keep it form sticking in the pan. You can keep the cooked eggs under foil while you make the rest of the eggs.
If you don't like fried eggs, I'm sure these tostadas would also be great with scrambled or poached eggs.
Remove from the oven, add the toppings, and enjoy.
Ingredients:
6 crispy tostada shells
16 oz. can of refried beans
1 cup shredded Colby Jack or pepper Jack cheese
1 Tablespoon butter, divided
3 eggs
Salt and pepper
2 Tablespoons water, divided
1 green onion, thinly sliced
1 Taplespoon fresh cilantro, minced
2 Tablespoons Cotija cheese, crumbled (or use feta or queso fresco)