Chicken Shawarma (Middle Eastern)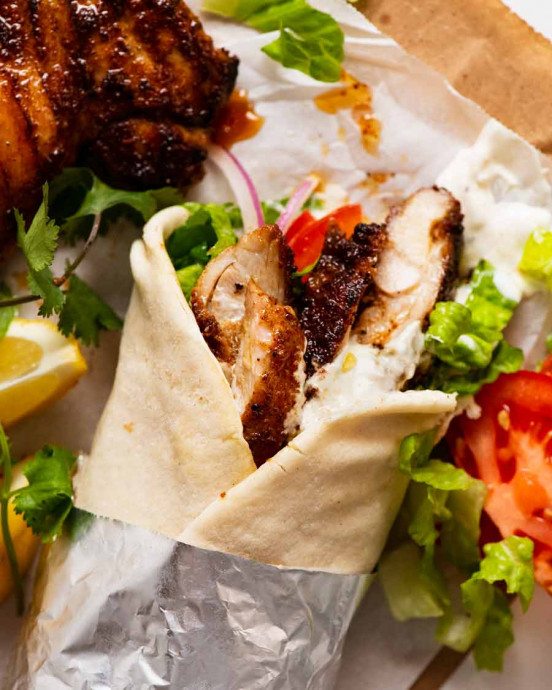 This Chicken Shawarma recipe is going to knock your socks off! Just a handful of every day spices makes an incredible Chicken Shawarma marinade that infuses the chicken with exotic Middle Eastern flavours. The smell when this is cooking is insane!
This is one of my signature recipes that will be very familiar to all my friends because I make this so often. It's off the charts for effort vs output: just a handful of everyday spices, garlic, a splash of lemon and olive oil transforms into the most incredible flavour.
Shawarma is a popular dish originating from the Middle East. It's a popular street food that is traditionally made in the form of spiced meats that are stacked on a vertical rotisserie with thin slices shaved off as it rotates. But don't worry! We can cook our horizontally in a good old pan or on the BBQ!
Shawarma was traditionally made with lamb, mutton and chicken though these days you see it with beef too. It's commonly served in the form of a wrap, though in some countries you see it served on plates with sides such as seasoned rice or fries, and salads. In this recipe, I'm giving you both options!
Ingredients:
1 kg / 2 lb chicken thigh fillets , skinless and boneless
MARINADE
1 large garlic clove , minced (or 2 small cloves)
1 tbsp ground coriander
1 tbsp ground cumin
1 tbsp ground cardamon
1 tsp ground cayenne pepper (reduce to 1/2 tsp to make it not spicy)
2 tsp smoked paprika
2 tsp salt
Black pepper
2 tbsp lemon juice
3 tbsp olive oil
YOGHURT SAUCE
1 cup Greek yoghurt
1 clove garlic , crushed
1 tsp cumin
Squeeze of lemon juice
Salt and pepper
TO SERVE
4 – 5 flatbreads (Lebanese or pita bread orhomemade soft flatbreads)
Sliced lettuce (cos or iceberg)
Tomato slices
Red onion , finely sliced
Cheese , shredded (optional)
Hot sauce of choice (optional)