TGI Friday's Potato Skins Recipe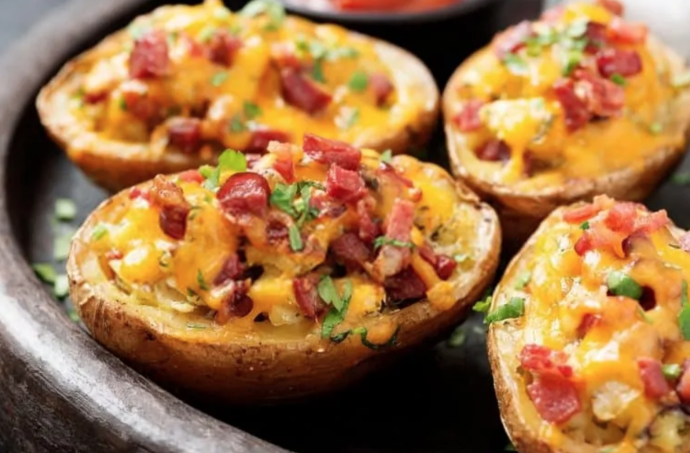 This TGI Friday's Potato Skins Recipe was a huge hit with my entire family. In the past we will make a trip to TGI Friday's to enjoy an appetizer platter. Everyone's favorite app is the potato skins. These skins loaded up with tons of bacon, cheese and green onions are just awesome. If you are a fan of TGI Friday's skins you are going to love this simple and tasty recipe. You can make up a huge batch of these skins and served them with a salad for dinner. So this recipe is perfect to serve up an appetizer or a meal.
TGI Friday's Potato skins have a nice crisp and not too much of any one ingredient that dominates them. These were a perfect blend of the cheese, bacon and of course that slight crisp. Plus making our own at home saves so much money. These potato skins make a very special treat for a family celebration dinner, and they're great for a party or football night. This recipe doubles or even triples easily, making it a great choice for a crowd. And there are a ton of variations you can play with—some suggestions are offered after the recipe.
Ingredients:
4 small russet potatoes
1 tablespoon of olive oil
1 tablespoon of melted butter
1/2 cup sharp cheddar cheese, shredded
1/4 cup mozzarella, shredded
1/2 cup fried bacon, crumbled
Salt and pepper
1 cup sour cream
1 chopped green onion