Vegetarian Mushroom Stroganoff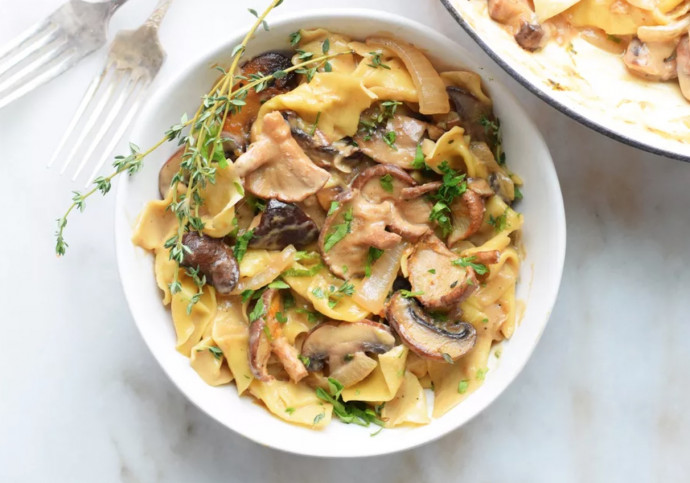 Mushroom stroganoff is the plant-based comfort food you need on your weeknight table. It's full of creamy, meaty goodness without any meat. It's easy to prepare and can be made all in one pot for minimal cleanup. Dinner will be on the table in just 30 minutes. While this dish is vegetarian, we've included instructions for how to make it vegan as well.
You can use whatever kind of mushrooms you like. We used a mix of shiitakes and baby portobello mushrooms, but any variety will do. You'll love this dish if you enjoy beef stroganoff, but are looking to cut down on meat or just looking to change up your normal recipe. If you're feeling ambitious, try making your own egg noodles.
Ingredients:
16 ounces egg noodles
1 tablespoon olive oil
2 tablespoons unsalted butter
1 large onion, thinly sliced
1 teaspoon kosher salt
1 teaspoon ground black pepper
4 cups mushrooms, sliced
2 cloves garlic, minced
1 tablespoon fresh thyme leaves
2 tablespoons all-purpose flour
1 teaspoon onion powder
1/2 teaspoon paprika
1/2 cup white wine
1 tablespoon vegetable bouillon
1 tablespoon Worcestershire sauce
1 bay leaf
1/2 cup heavy cream
1/4 cup chopped fresh parsley, optional
1/4 cup sour cream, optional