No-Bake Apricot Chia Seed Bars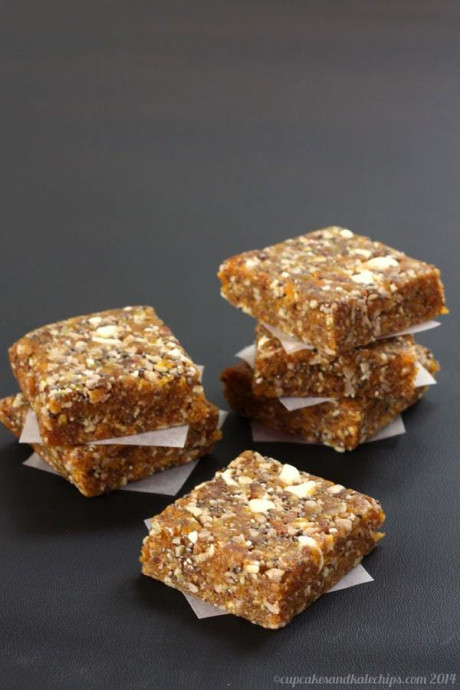 Homemade energy bars are a great road trip or after-school snack for kids and adults! No-Bake Apricot Chia Bars are sweet, chewy, and have only six ingredients. Plus this recipe is gluten-free, vegan, peanut- and tree nut-free making them the perfect healthy no-bake snacks to pack in a lunch box as an allergy-safe snack for school or camp.
Fast, easy, and healthy, these snack bars are portable and packable. Or keep them in the fridge for when the afternoon hunger pangs start. I know this may seem like a random combination, but out of all of the healthy energy bars, balls and bites I've made, this no-bake apricot chia energy bar recipe might be my absolute favorite. OK, maybe the Funky Monkey Banana Chocolate Peanut Butter Energy Balls rank pretty high because I'm a sucker for peanut butter and chocolate. They are sweet and tangy with just a hint of crunch, but are free from peanuts, tree nuts, dairy (if you get dairy-free chips), and gluten.
Ingredients:
1 cup Medjool dates pitted
1 cup dried apricots
2 Tablespoons chia seeds
¼ teaspoon cinnamon
1 cup raw pumpkin seeds/pepitas
2 Tablespoons white chocolate chips (use vegan, if desired)