Glazed Gingerbread Bundt Cake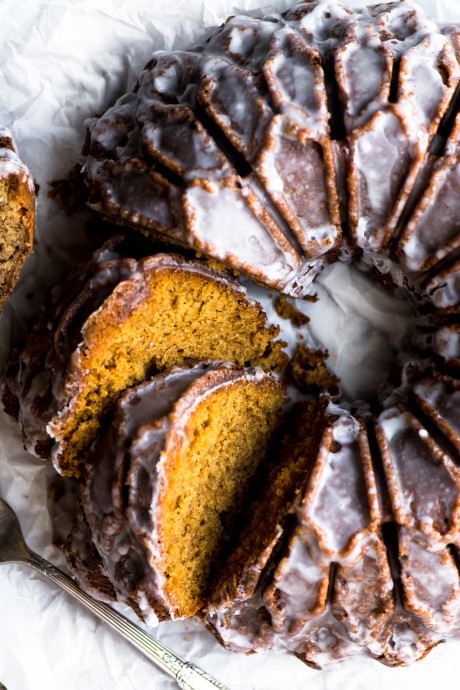 Glazed Gingerbread Bundt Cake is a spectacular gingerbread cake iced with a thin sugar glaze ~ this delicious coffeecake is guaranteed to get you into the holiday spirit.
Not being into elaborate desserts has its perks…like bundt cake, for instance. Since I don't indulge in rich layer cakes or over-the-top treats very often, I feel more than entitled to enjoy the occasional bundt cake. If it's breakfast worthy, all the better.
There's nothing more luxurious, if you ask me, than waking up to a seriously hot cup of strong coffee and a little slice of something like this glazed gingerbread bundt cake.
The cake itself has a fine crumb, and is a little more lightly spiced than some gingerbread, making it a good choice if you like your winter spices on the mild side. The glaze forms a sweet, crackly crust, much like on a glazed doughnut. It's all very very good.
Ingredients:
2 Tbsp melted butter
flour
2 cups all purpose flour
2 Tbsp cornstarch
2 tsp baking powder
1/2 tsp salt
2 tsp ground ginger
1 tsp cinnamon
1/2 tsp ground cloves
1/2 tsp ground allspice
1/4 tsp freshly grated nutmeg
4 Tbsp unsalted butter at room temperature
1/3 cup vegetable oil
1 cup white sugar
2 large eggs at room temperature
1/4 cup molasses
3/4 cup half and half (you can also use buttermilk or milk)
2 cups confectioner's sugar sifted
5 Tbsp water, approximate