Easy Apple Fritter Bread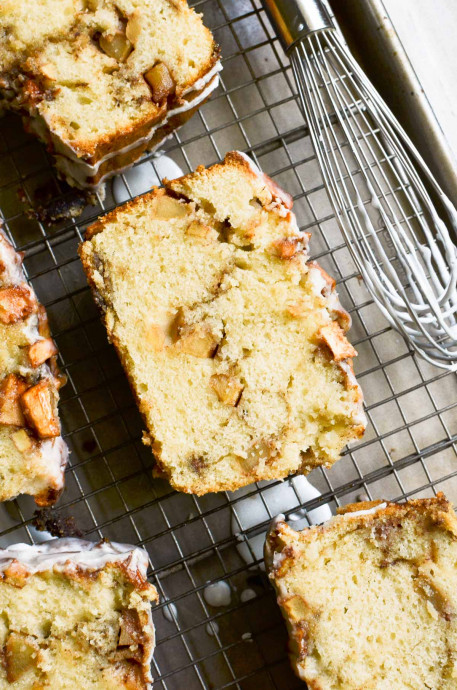 Easy Apple Fritter Bread ~ tart apples are swirled with brown sugar and spices in this classic loaf cake, topped with a sweet crackly glaze. This apple quick bread takes a cue from the down home deep fried apple fritters grandma made. Fall baking doesn't get any better than this!
The minute I tossed together the chopped apples with the brown sugar and the spices, I knew this was going to be a winner. The smell of just those ingredients alone was amazing, even before it hit the oven! If you've ever had an apple fritter, you know that that crunchy, sweet glaze, covering apples and dough and spices is pretty heavenly. This loaf bread is a nod towards that delicious golden apple fritter, but without the messy deep frying. What are apple fritters?
This quintessential fall treat has a long history that goes back to Roman times! A food has to be pretty good to survive that long.
Apple fritters are fresh chopped apples folded into a rich batter and then deep fried, doughnut style. They're dusted with powdered sugar, or sometimes glazed. Think doughnut meets funnel cake meets delicious.
Ingredients:
For the cake
2 large apples, cored and chopped, or about 2 and 1/2 cups chopped apples.
1/2 cup brown sugar, packed
1 1/2 tsp cinnamon
1/2 tsp nutmeg
3/4 cup granulated sugar
1 cup (2 sticks) unsalted butter
3 large eggs
1 1/2 tsp vanilla extract
1 3/4 cups all purpose flour
1 3/4 tsp baking powder
1/2 tsp salt
1/2 cup half-and-half or whole milk
For the glaze
1 1/2 cups powdered sugar
5-6 Tbsp water