Cookies and Cream Cake Mix Cookies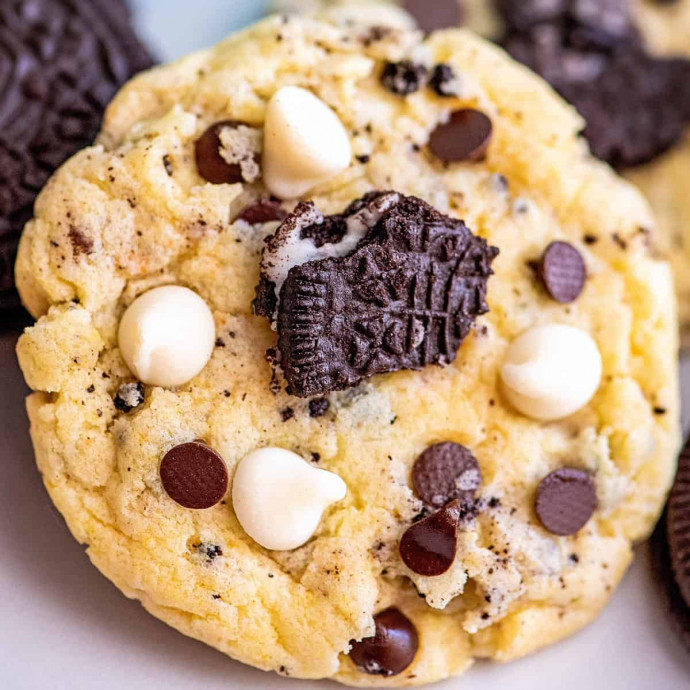 These Cookies and Cream Cookies are made with cake and instant pudding mix, and stuffed with plenty of Oreo cookies. Easy dessert recipes like this are great when you want a treat, but also want a baking shortcut!
For years I was skeptical of baking cookies from cake mix. I kept thinking they wouldn't taste the same as cookies baked from scratch.
BUT, I finally tried it with these red velvet cookies… and was blown away. Y'all. These taste SO good! If I gave you one of these cookies, you'd never know they were made from a mix.
These cookies are so soft and tender, chewy and full of sweet cookies and cream flavor!
Baking cookies from scratch, while not hard to do, can be a bit time consuming. There are more ingredients to measure, and more often than not the dough needs to be chilled before baking.
But this recipe cuts a lot of those challenges out, and this dough needs no chilling!
Ingredients:
15.25 oz box white cake mix
3.4 oz box instant vanilla pudding mix
2 large eggs
1/2 cup vegetable oil
1/2 cup crushed Oreo cookies (approximately 10-12 cookies)
1/4 cup vanilla baking chips (white chocolate chips will work as well)
1/4 cup mini chocolate chips