Smoked Gouda Potato Pancakes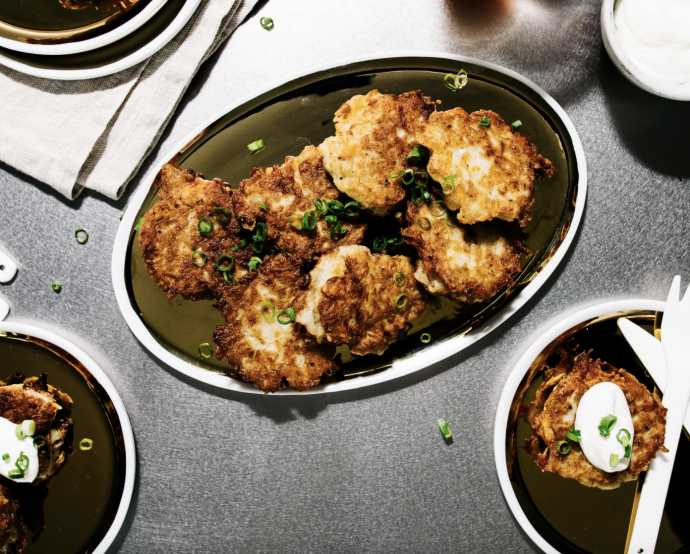 Are you the kind of person that likes to hang out near the passed appetizers at a party? I've been known to awkwardly stalk the waitstaff coming out of the kitchen in hopes to get first dibs on the freshest bite-sized, handheld deliciousness. I just love tiny, bite sized food. What I don't love is when appetizers don't live up to my expectations – I'm looking at you, sad spinach dip (just kidding, I love spinach dip!). Fear not, I'm pretty sure all appetizers have the potential to be awesome.
Even still, some appetizers just shine and these Canadian Smoked Gouda Crispy Potato Pancakes are pretty much guaranteed to be the life of the appetizer party. They're crispy, crunchy, smoky, cheesy goodness. Topped off with a dollop of cool sour cream and fresh sliced green onions, they're the perfect bite. I had a chance to make a little video showing you how it's done. They're super simple, but oh so addictive, so I hope you get a chance to try them out!
Ingredients
1 large 1 lb russet potato, peeled
1 small onion, peeled
1/4 cup flour
3/4 cup shredded Canadian smoked gouda
1 large egg, lightly beaten
1 teaspoon salt
1/4 teaspoon freshly ground pepper
grapeseed oil, as needed
sour cream
sliced green onions