Beef Stroganoff Soup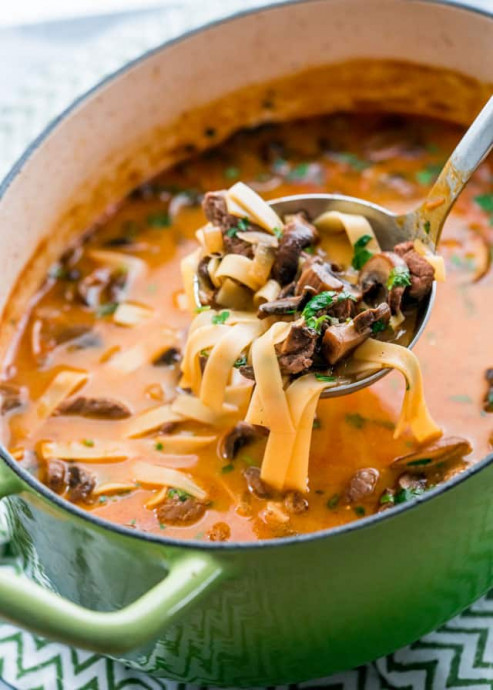 This Beef Stroganoff Soup takes all the rich and delicious flavors of Beef Stroganoff and transforms them into a one-pot 30-minute soup, full of tender beef and loads of noodles. Get ready to discover your new favorite weeknight meal!
This is the kind of soup that I grew up with as my mom would make soups like this often. Trust me, these soups are amazing because they really are a meal on their own. Serve these with some nice toasted crusty bread and you've got perfection.
Pretty simple too, and all done in 30 minutes. It's just so perfect and comforting! This dish will last in an airtight container in the fridge for up to 3 – 4 days. You can reheat it over the stove or in the microwave.
Ingredients:
1 tablespoon olive oil
1 tablespoon butter unsalted
1 pound beef sirloin cut into thin strips
1/2 teaspoon salt or to taste
1/4 teaspoon pepper or to taste
8 ounce cremini mushrooms stems trimmed and sliced
1 large onion chopped
2 cloves garlic minced
1 teaspoon Worcestershire sauce
1 teaspoon smoked paprika
8 cups beef broth low sodium
4 ounce egg noodles dry
1/2 cup sour cream
1 tablespoon fresh parsley chopped