Punjabi-Style Chole Chickpea Curry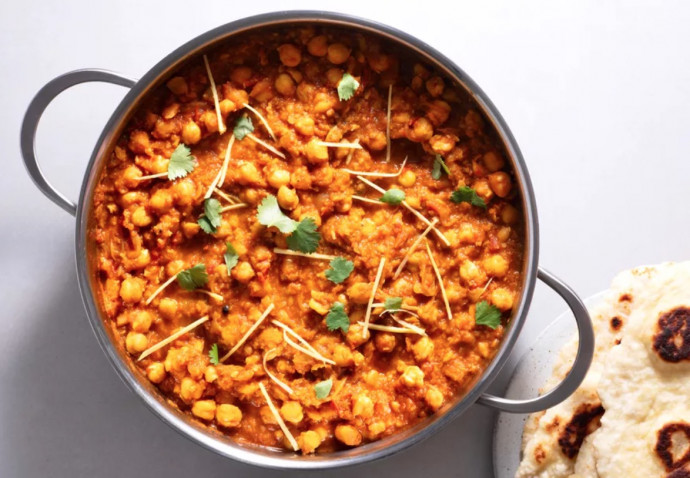 There are few foods more distinctly North Indian than chole (pronounced chho-lay) or chickpea curry, and there are probably as many recipes for making chole as there are households in North India. This is the recipe my mother has always used.
The trick to making this recipe as delicious as possible is to use whole herbs and spices and to use ones that are as fresh as possible. Take a whiff of your spices if there are some in this recipe that you don't use frequently. Anything musty or off, toss and buy new if you can.
This chole recipe requires both a ginger and garlic paste, which are not hard to make. The ginger paste can be made by blending fresh sliced ginger in a food processor with a little bit of neutral oil (such as avocado or canola) to a paste-like consistency.
Serve this crowd-pleasing dish piping hot and accompanied by pooris or bhatooras, which are two different kinds of fried Indian bread.
Ingredients:
3 large onions, sliced thin and divided
2 large tomatoes, chopped
1 tablespoon ginger paste
2 tablespoons garlic paste
2 tablespoons vegetable oil , or canola oil
2 bay leaves
5 to 6 cloves
3 to 4 whole green cardamom
5 to 6 peppercorns
1 teaspoon cumin powder
2 teaspoons coriander powder
1/2 teaspoon red chili powder
1/4 teaspoon ground turmeric
2 teaspoons garam masala
2 (15 1/2-ounce) cans chickpeas
Kosher salt, to taste
Water, enough to make a gravy
1 (1-inch) piece ginger, julienned
2 tablespoons fresh cilantro, chopped fine