Maple Walnut Shortbread Cookies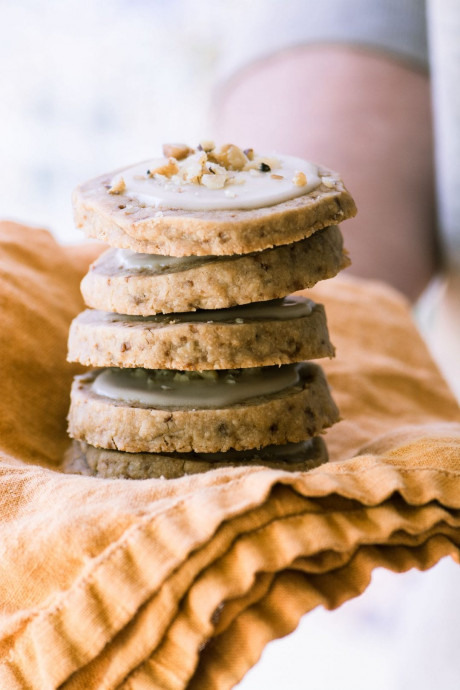 Maple Walnut Shortbread Cookies ~ maple infused and packed with nuts, this takes my classic slice and bake shortbread cookie recipe to a whole new level. This maple walnut shortbread cookie is simple yet sophisticated…definitely not something you're going to find in the supermarket cookie aisle.
But it's not all about the flavor ~ my basic slice and bake shortbread cookies have such a great melt in your mouth texture, whether you eat them warm from the oven, or let them cool. Why does shortbread have that melt in your mouth texture? It's a really interesting question, and it has to do with chemistry! Shortbread cookie dough doesn't contain any liquid ingredients like you normally find in cookie recipes, so they don't rise, and the formation of gluten is retarded.
The addition of cornstarch (which is gluten free) reduces the total amount of gluten in the recipe which further tenderizes the shortbread.
Shortbread cookies can be soft or crisp, depending on how thick they are and how long you cook them, but they will never be chewy. Note: these cookies are not gluten free, although you can make them with a good gluten free baking mix.
Ingredients:
2 sticks (1 cup) unsalted butter, at room temperature
1/2 cup maple sugar packed (substitute light brown or granulated if you like)
1/2 tsp pure maple extract if you can't find, use almond extract
1 3/4 cups all purpose flour
1/4 cup cornstarch
1 cup finely chopped walnuts plus more for topping
frosting
1 cup confectioner's sugar sifted
about 5 Tbsp pure maple syrup not imitation