Banana Bread Scones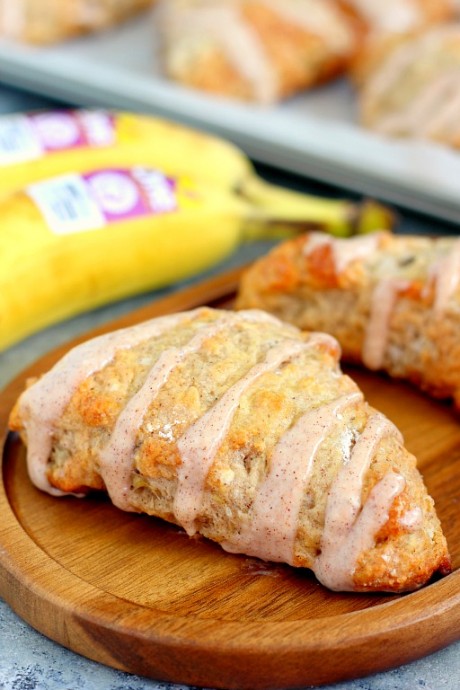 These Banana Bread Scones with Cinnamon Cream Cheese Glaze are crispy on the outside and tender on the inside. The scones are drizzled with a sweet glaze, which makes these treats perfect for breakfast, dessert, or a mid-morning snack!
These scones taste just like banana bread. In fact, when these were baking, the hubster walked in and immediately stated that his co-workers go crazy for my banana bread. Because, you know, his co-workers get to be the taste-testers of all my sweet treats!
One bite of these Banana Bread Scones and your memories of the dry and flavorless kind will become a distant memory. Packed with a sweet banana flavor and soft texture, these scones will remind you of your favorite banana bread! The cream cheese glazes gives these scones the right amount of flavor, which results in an irresistible combination.
So if you're looking for the perfect treat to pair with your morning cup of coffee, reach for those bananas and whip up these easy and delicious Banana Bread Scones with Cinnamon Cream Cheese Glaze!
Ingredients:
2½ cups all-purpose flour
½ teaspoon salt
1 tablespoon baking powder
½ teaspoon baking soda
¼ cup plus 1 tablespoon white sugar
1 teaspoon ground cinnamon
Pinch of nutmeg
4 tablespoons cold unsalted butter cut into small cubes
2 ripe bananas mashed
2-4 tablespoons milk any kind
½ cup vanilla Greek yogurt
EGG WASH
CINNAMON CREAM CHEESE GLAZE
3 tablespoons cream cheese softened
¼ cup powdered sugar
2 tablespoons milk
¼ teaspoon vanilla bean paste or vanilla extract
½ teaspoon ground cinnamon