Thai Inspired Green Curry Tofu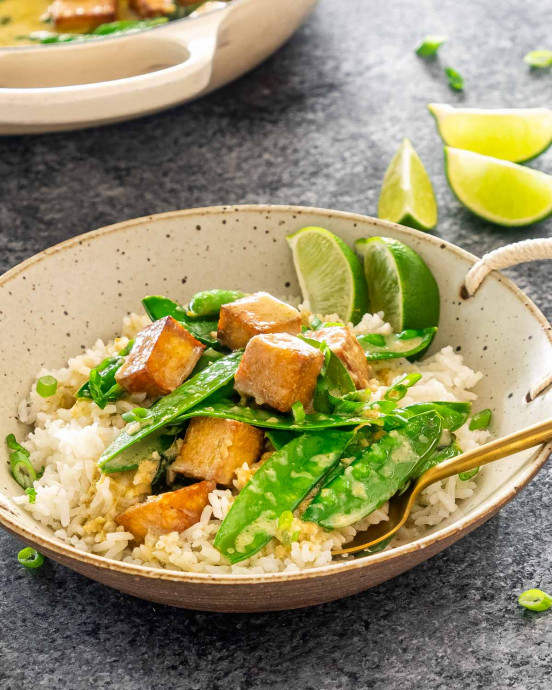 This irresistible Thai Inspired Green Curry Tofu is absolutely packed with bright and fresh flavors. Air fried tofu in a garlicky and gingery green curry sauce packed with snow peas and finally served up with some fluffy rice. A must try for any curry lover. Talk about a healthy, vegan and veggie filled bowl that comes together in under 30 minutes!Green curry is considered the most popular curry. Because the green curry paste is made with green chilis, it is far hotter than other curries. However the coconut milk will tone down the spiciness quite a bit.
One of the best things to serve with Thai green curry is some nice fragrant fluffy coconut rice or plain jasmine rice. This is a very customizable dish that you can easily add other proteins or vegetables according to your liking. Try broccoli florets, green or red bell peppers, snap peas, mushrooms, sweet potato chunks, or even eggplant.
Ingredients:
For Tofu
12 ounces firm tofu drained and patted dry with paper towels
2 tablespoons soy sauce low sodium
1 tablespoon sesame oil
For Thai Green Curry
3 tablespoons peanut oil
4 tablespoons green curry paste
2 teaspoons lemongrass paste or 2 stalks of lemongrass
2 teaspoons fresh ginger finely grated
2 cloves garlic minced
1 cup vegetable broth low sodium
14 ounces coconut milk (1 can)
2 teaspoons fish sauce
1 tablespoon sugar
5 kaffir lime leaves
1½ cups snow peas
8 leaves Thai basil