Bacon Cheeseburger Crescent Ring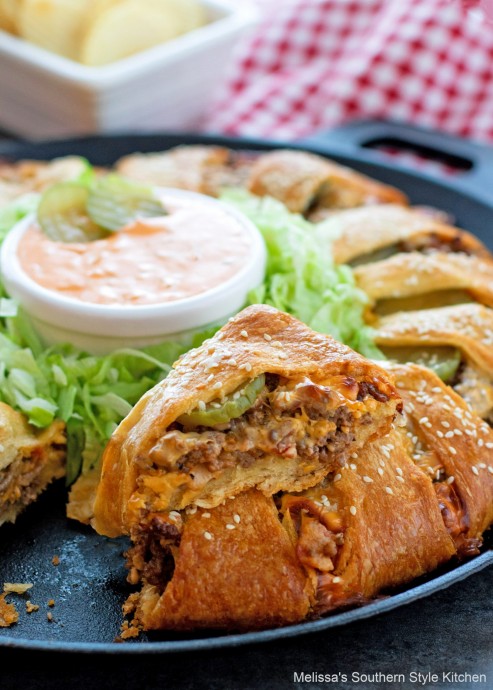 This Bacon Cheeseburger Crescent Ring is a delicious way to elevate casual dinners, snacks and game day eats. The burger sauce takes it to another level of flavor the family is certain to love.
Crescent rolls are one of those handy convenience items that people always love. While I don't use them on a weekly basis, when I do, they always make my family happy, especially when used in an unexpected way. A family favorite for handheld on the go snacking, are my chicken bacon ranch crescent bombs which are also delightful for quick meals. Crescent rolls are also handy for making appetizers like spinach bacon pinwheels or a brunch favorite, sweet Hawaiian pineapple coconut crescent braid.
Crescent roll dough is very forgiving. It presses together easily and any little tears can be pinched together easily. Don't sweat the small stuff. The bacon cheeseburger filling can be prepared in advance and kept chilled, then the crescent ring assembled just before baking.
The special burger sauce can also be prepared in advance, and in fact, it's even better when given time for the flavors to marry. There's no wrong amount of pickles for this dish, just eyeball it depending on the size of the pickle slices and you'll be good to go.
Ingredients:
1 batch Special Burger Sauce
2 8 oz tubes crescent roll dough separated into 16 triangles
8 slices bacon
1 1/2 lbs lean ground beef
1 medium onion finely diced
1 1/2 Tbsp hamburger or steak seasoning
1/2 tsp salt adjust to taste
16 dill pickle slices
12 slices American cheese
2 Tbsp butter melted
1 Tbsp sesame seeds