Coconut Almond Bars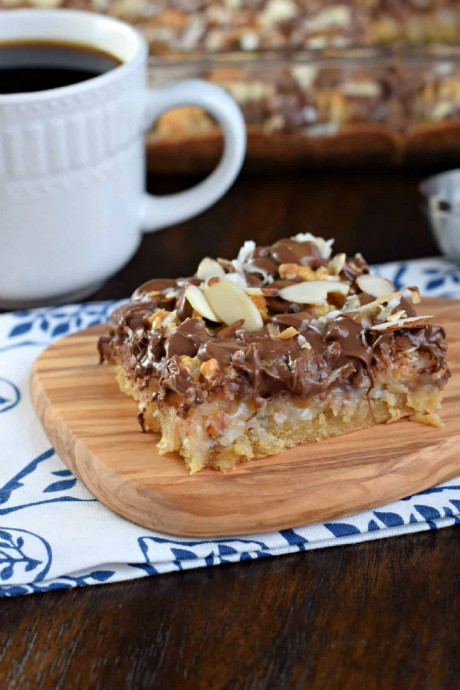 These Coconut Almond Bars are a delightful homemade candy bar recipe filled with toasted coconut and topped with chocolate, caramel, and crunchy almonds!
Don't let this list of ingredients scare you off. Let's break down the important items.
Shredded Coconut – The sweetened flakes get toasted in the oven before being added to the filling. Use our guide on how to toast coconut.
Caramel Sauce – Your favorite caramel ice cream sundae topping works perfectly. It's drizzled over the coconut filling and chocolate chips to give the bars an extra sweet finishing touch.
Corn syrup – You'll need this liquid sweetener for the crust, along with regular sugar. It helps keep the crust from becoming crumbly when baked.
Egg Yolk – used to provide structure to the cookie bar, as well as a chewy texture. Save the egg white to make meringues or white cake!
Sweetened condensed milk – This is essential for the thick coconut filling! Don't try to replace it with other milks; they won't work the same way.
Ingredients:
⅔ cup unsalted butter, softened
¼ cup light corn syrup
¼ cup light brown sugar, packed
1 ½ teaspoon almond extract
1 large egg yolk
1 ½ cups all-purpose flour
½ teaspoon baking powder
½ teaspoon kosher salt
1 bag (14 ounce) shredded, sweetened, coconut (toasted, see recipe below)
1 can (14 ounce) sweetened condensed milk
1 teaspoon almond extract
1 bag (12 oz) milk chocolate morsels
¼ cup caramel sauce
½ cup Sliced Almonds