Fluffy Homemade Waffle Recipe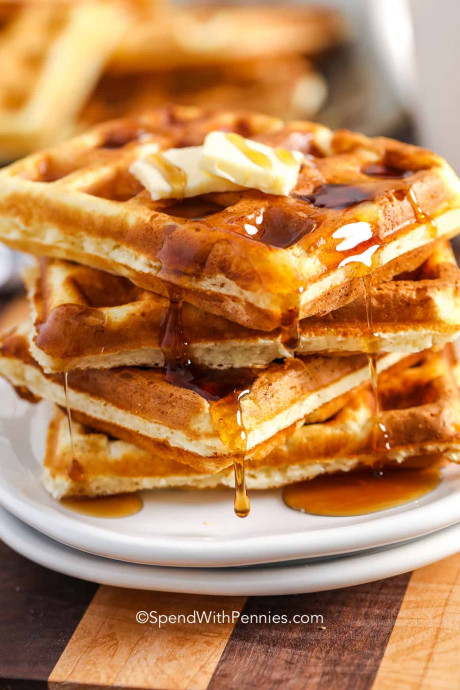 Crisp on the outside, fluffy on the inside, these waffles are delicious drizzled with melted butter and syrup. The perfect start to any weekend morning!
The batter in this waffle recipe is not the same as pancake batter.
Waffle batter uses more egg (plus we beat the whites separately and fold them in) for the most fluffy waffles ever! The extra egg in a waffle batter makes a crispy exterior surrounding a moist fluffy inside with lots of air pockets.
While you certainly can cook pancake batter in your waffle iron, they won't have the same texture or flavor that classic waffles have. Pancake mix or a pancake recipe will be a bit denser and won't have the same texture on the outside.
If you want extra fluffy waffles with a crisp exterior, there's a simple trick. It will only add about 2-3 minutes to the prep time, so it's totally worth the effort.
For extra fluffy waffles, separate the egg whites and beat them until stiff peaks form. Fold them into the batter. This step only takes a few minutes and makes a big difference. If you are short on time, you can skip this step but I highly recommend it!
Ingredients:
2 cups flour
1 tablespoon baking powder
½ teaspoon salt
2 tablespoons sugar
2 eggs divided
1 ⅔ cup milk
⅓ cup melted butter or oil