Creamy Tuscan Chicken and Gnocchi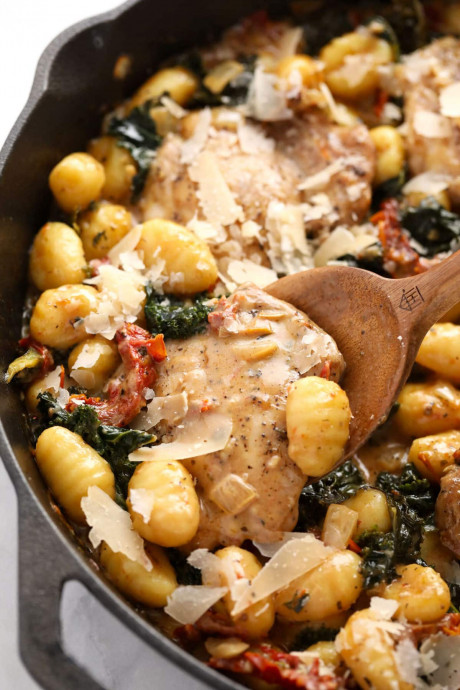 This Creamy Tuscan Chicken and Gnocchi is a one pot meal you're absolutely going to love! Delicious tuscan flavors, and ready to eat in 35 minutes. Enjoy!
There is something so deeply satisfying about cooking something super delicious and only using ONE dish. This creamy tuscan chicken and gnocchi is just that! You prepare the chicken and veggies in a skillet on the stovetop, and then combine everything together and bake to perfection in the oven — in the same skillet. And just like that, your one pot delicious dinner is served! Why Make This Chicken and Gnocchi? Flavor: the flavor of this dish is on point. We used a combination of chicken broth, spices, garlic, butter, sun-dried tomatoes, and a dash of heavy cream in the sauce to get that ultra savory flavor. One-Pot: there truly is nothing better than not having to clean a million pots and pans after you cook dinner. Clean one pot and done with this recipe! Leftovers: If you are serving 1 or 2 people, you're going to get multiple meals out of this creamy chicken and gnocchi. Balanced Meal: Protein + Veggies + starch = perfect balanced meal for any night.
Ingredients:
1.5 lbs. boneless, skinless chicken thighs
1/4 teaspoon ground pepper
1/2 teaspoon salt
1.5 tablespoons olive oil
2 tablespoons butter
1/2 medium white onion, minced
5 cloves garlic, smashed and minced
4 cups chopped kale, packed
1/3 cups sun-dried tomatoes, with liquid
1.5 cups chicken broth
3 tablespoons heavy cream
1 teaspoon Italian seasoning
16-oz. potato gnocchi, uncooked
1/2 cup shredded parmesan (+ more for topping)