Breakfast Tacos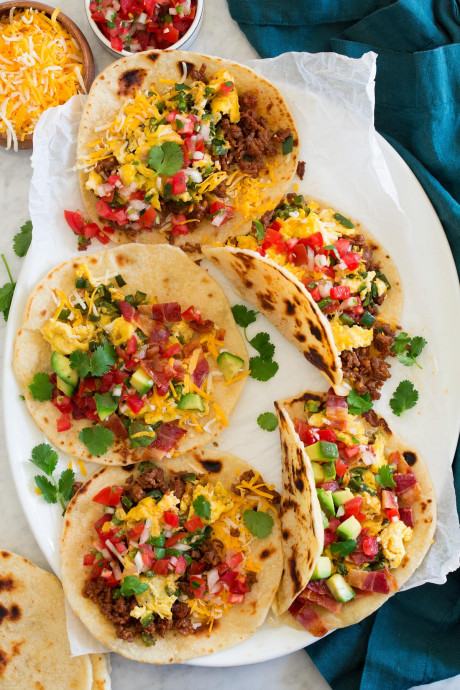 Breakfast Tacos – homemade tortillas are topped with seasoned chorizo or flavorful bacon, then layered with eggs and fresh peppers, cheese, and vibrant pico de gallo. Easily one of the tastiest breakfasts! Breakfast tacos are best when they're homemade and made fresh from scratch! Beginning with fresh tortillas and piled high with plenty of meat and eggs, and loaded up with all the best breakfast taco toppings.
Yes making them from scratch is more of a labor of love but easily worth it in the end. Once you get the hang of homemade tortillas they are a breeze. And fresh pico de gallo easily beats out bottled salsa.
Weekends and even weeknight dinners were made for these breakfast tacos! They may even take the place of your favorite pancake breakfast that many of us have on repeat. So much to love about these hearty, flavor packed tacos!
Ingredients:
16 oz. chorizo (such as Johnsonville) or 12 oz bacon
8 homemade flour tortillas, recipe here, warmed
8 large eggs, whisked in a bowl
1 poblano pepper, seeded and chopped (1 cup)
1 cup shredded cheddar cheese or monterey jack cheese
1 medium avocado, diced
1 cup pico de gallo, recipe here
Mexican hot sauce, such as Tapatio or Cholula