Easy Vegetarian Meatballs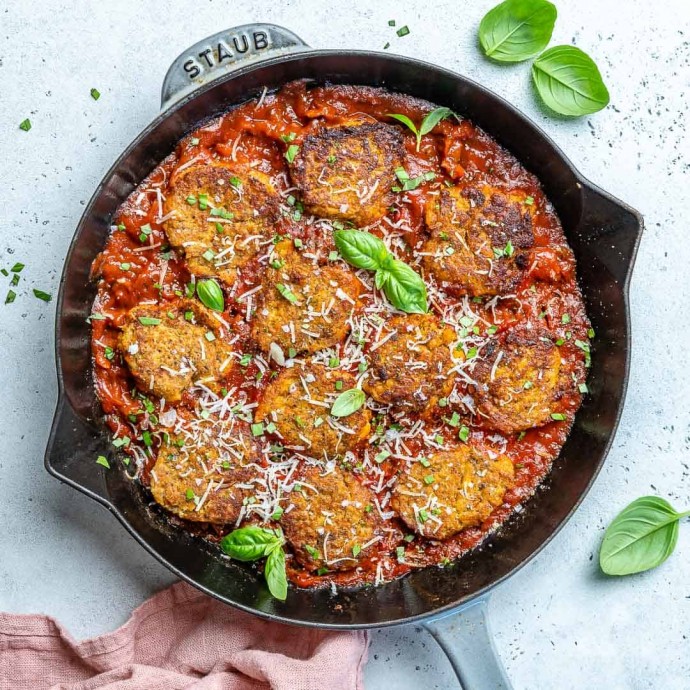 These Vegetarian Meatballs are so delicious and so easy to make. These yummy balls of goodness are hearty, super satisfying, and healthier than regular meatballs! Made with chickpeas, mushrooms, sun-dried tomatoes, and a host of other goodies, they're smothered in a rich marinara sauce. Utter comfort food!
You could omit the egg for a vegan option, however the egg acts as a binder so the meatballs will crumble apart more easily (still delicious). I highly recommend panko breadcrumbs over regular. Panko gives you such a crispy texture. If you want to spice these meatballs up, add a pinch of red chili flakes to the mixtures. Garnish with fresh, chopped basil.
These little balls of yumminess are super versatile! You can go for pasta, rice, quinoa, lentils – they'll help grab all that sauce too. Or you can opt for roast potatoes for a Spanish tapas vibe.
A great way to serve these up is in a sandwich! So good! Serve them with noodles or zucchini noodles, rice or cauliflower rice, or some roasted veggies. If you're wanting to keep things light, keep some meatballs out of the sauce and save them for salad toppers.
Hearty and delicious Vegetarian Meatballs are destined to become the new family favorite! Loaded with Italian flavors and covered in bubbling marinara sauce, whether you're vegetarian or an omnivore, these healthy meatballs really hit the spot!
Ingredients:
1 1/2 tbsp avocado oil or any other oil
1 small onion diced
2-3 garlic cloves minced
1 lb. sliced button or crimini mushrooms
15 oz chickpeas ( drained and rinsed) one can
1/2 cup sun-dried tomatoes chopped
1 teaspoon kosher sea salt
1/4 tsp ground pepper
1 Tablespoon Italian blend herbs
2 Tablespoons vegetarian Worcestershire sauce
1 1/3 cup panko
2 large eggs whisked
14.5 oz marinara sauce one jar
Freshly chopped basil to garnish
OPTIONAL: Ground parmesan to serve with