White Chocolate Raspberry Trifle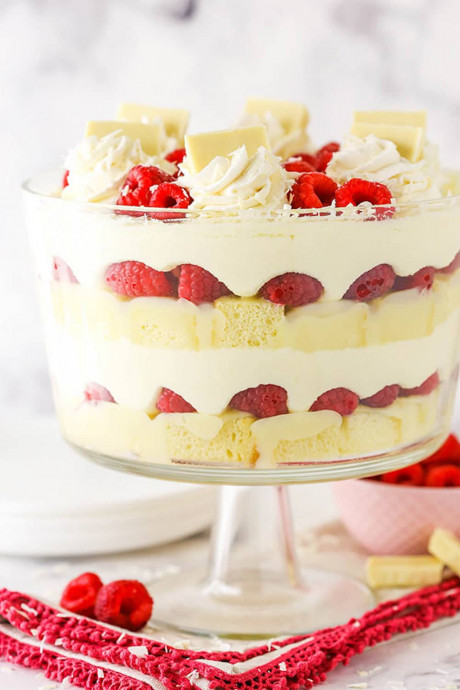 This decadent White Chocolate Raspberry Trifle has layers of white chocolate ganache, white chocolate mousse, pound cake, fresh raspberries and a whipped cream topping! It's the best trifle to indulge in on special occasions. With layers upon layers of white chocolate raspberry goodness, this homemade trifle makes a delicious treat. There's no baking required and it's easy to prepare. This trifle is like a deconstructed white chocolate raspberry cake!
You can also use dark or milk chocolate for your trifle if you'd prefer. And you can substitute the raspberries for strawberries or another fruit. With this flexible recipe, you can make a dessert that's perfect for your family.
Ingredients:
For the White Chocolate Ganache
6 tbsp (90ml) heavy whipping cream
8 oz (225g) white chocolate
For the White Chocolate Mousse
12 ounces (338g) white chocolate
2 cups (480ml) heavy whipping cream, cold, divided
8 oz mascarpone cheese*
1 cup (115g) powdered sugar
Additional Ingredients
15 oz pound cake, cut into cubes
9 oz raspberries
For the Whipped Cream Topping
1/2 cup (120ml) heavy whipping cream
1/4 cup (29g) powdered sugar
3/4 tsp vanilla extract
Raspberries, for decorating
White chocolate, for decorating