Easy Pasta Puttanesca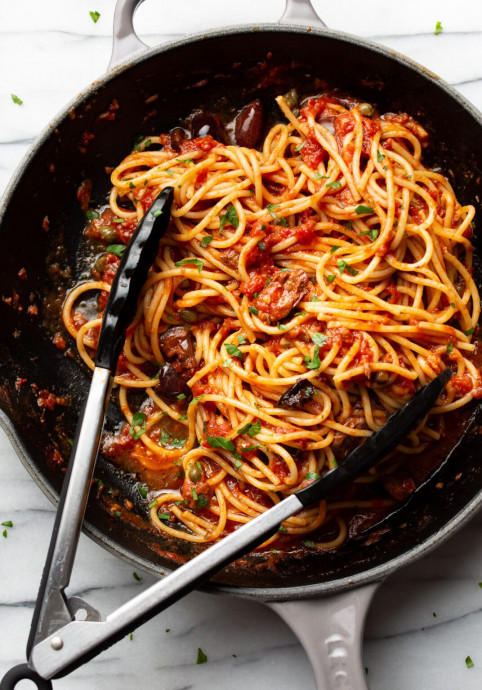 This pasta puttanesca recipe is a simple pantry meal that has bold savory flavors! It's a quick weeknight dinner and uses minimal ingredients for the addictive tomato sauce.
So what does puttanesca mean? This classic dish gets its name from an indelicate Italian term that refers to gals of the night who would, according to a possibly apocryphal tale, make this hassle-free pasta in between entertaining clients after dusk in Naples. The more you know!
Setting aside the colorful and amusing history, spaghetti alla puttanesca actually does taste like a fancy meal, but it's so simple that you'll make it again and again! It's ready in just 30 minutes and packs in sensational flavor.
Pasta puttanesca will only be as good as the ingredients you use. Buying good-quality ingredients (made in Italy if possible) ensures you'll achieve the rich, incredible flavors of the sauce as intended!
Ingredients:
8 ounces uncooked pasta I used spaghetti
1/4 cup olive oil
6 cloves garlic minced
1/2 teaspoon crushed red pepper flakes or to taste
4-5 anchovy fillets cut into small pieces
1 (28 fluid ounce) can whole tomatoes (with juices) see note
2-3 tablespoons capers drained
1/2 cup Kalamata olives pitted and halved
Salt & pepper to taste
Chopped fresh parsley optional, to taste