Easy Popcorn Chicken Recipe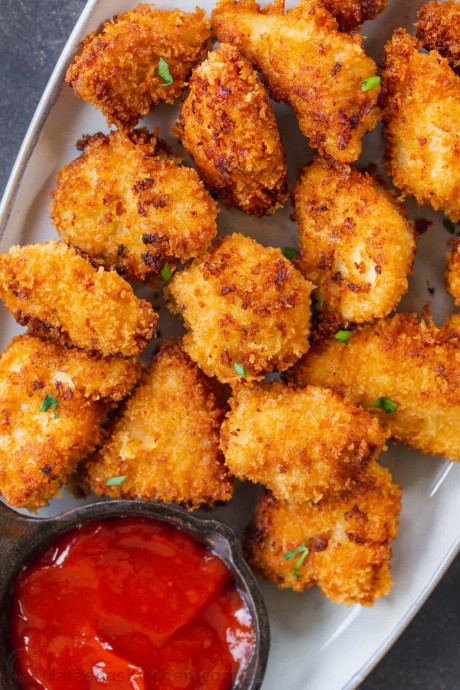 Popcorn Chicken is one of those comfort foods that never gets old. While these crispy, juicy morsels are 100% kid-friendly, the adults in your life will enjoy them just as much.
It's likely that you first fell in love with popcorn chicken at KFC. If you've never tried it before, it features tender chunks of chicken breast that have been breaded and deep-fried to golden brown perfection. Unlike traditional fried chicken or Chicken Tenders, it comes in bite-sized pieces (hence the "popcorn" reference in the name).
It can be served as a snack or appetizer with your favorite dipping sauce, over salad, or with your favorite side for a complete meal. Dipping sauce – Jalapeno ranch dressing, BBQ sauce, Avocado Ranch, hot sauce, and ketchup are all great options.
Appetizer – Serve alongside other small bites like Jalapeno Poppers, Egg Rolls, or Air Fryer French Fries.
Salad Topper – Sprinkle the popcorn chicken onto your favorite salad or even over pasta like we did with Lemon Chicken Pasta.
Ingredients:
3 lb chicken breast, cut into 1-inch pieces
5 tbsp all purpose flour
1 1/2 tbsp salt
1 tsp garlic powder
1 cup buttermilk
2 cups panko crumbs
1 cup oil, vegetable or canola