Chopped Mediterranean Farro Salad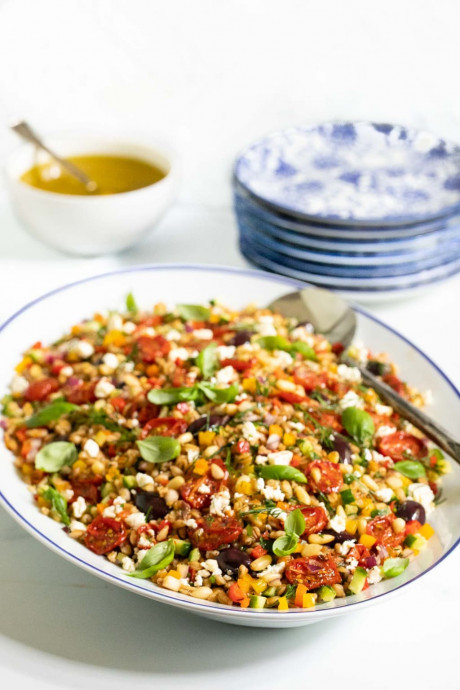 Love a hearty, healthy, salad that's bursting with bright, fresh flavor? This Chopped Mediterranean Farro Salad is a meal on its own or a great side!
I'm excited to share this Chopped Mediterranean Farro Salad with you and hope you're going to love it as much as we do. It's loaded with fresh, healthy veggies and whole grains and can be enjoyed as a fabulous vegetarian meal or as a wonderful side for grilled, roasted or pan-seared entrees.
This salad would also be wonderful for potlucks, picnics, parties... any type of get-together with family, friends, neighbors, co-workers, etc. I don't know about you, but I LOVE to see a fresh, delicious salad at a potluck or picnic in the midst of the array of high-carb, high-calorie, generally not-super-healthy options.
Although cherry and grape tomatoes are generally pretty sweet and tasty all year long, a stint in the oven with a splash of olive oil works delicious magic. As the tomatoes are roasted the juices are concentrated and caramelized, the flavor is intensified, and good tomatoes are transformed to great. In addition to roasted cherry tomatoes, this Herbed Mediterranean Farro Salad also boasts diced bell pepper, red onion, crunchy cucumber and a plethora of finely chopped fresh herbs.
Ingredients:
For the tomatoes
1 tablespoon extra virgin olive oil
1 teaspoon sugar
1 teaspoon garlic salt
½ teaspoon ground pepper
1 teaspoon Italian seasoning
3 cups cherry tomatoes halved
For the farro:
4 cups chicken broth
2 cups apple juice
2 medium-size bay leaves
2 teaspoons kosher salt most of this will be drained off
2 cups dry farro
For the dressing:
¼ cup extra-virgin olive oil
zest of 1 medium lemon
2 tablespoons fresh lemon juice
1 medium clove garlic finely minced
½ teaspoon kosher salt
For the salad:
2 medium bell pepper diced small (any color OR use 10-12 mini bell peppers in a variety of hues - so pretty!)
1 medium seedless cucumber or 4 medium-size mini seedless cucumbers diced small
½ medium red onion diced small
¼ cup pitted Kalamata olives halved
1 cup finely chopped fresh herbs I like to use about ½ basil and ½ dill - sometimes I throw a little mint in too. Use whatever you really like.
3 tablespoons toasted pine nuts
½ cup feta cheese cubed or crumbled