Garlic Herb Tuna Steak Marinade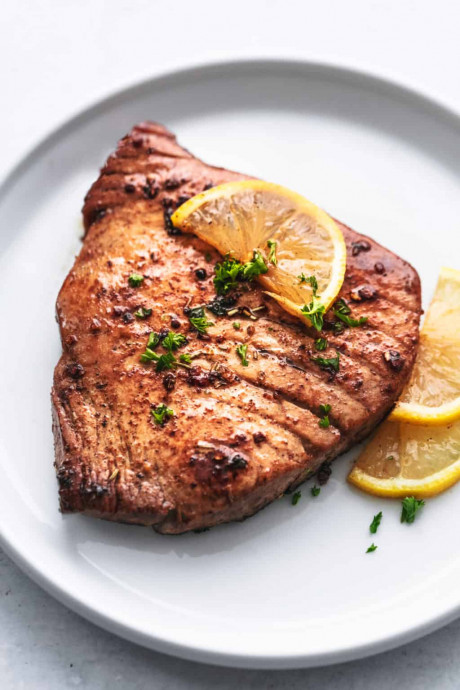 This is the best, easy tuna steak marinade! All you need is a few simple ingredients and 30 minutes to infuse your tuna steaks with deliciously bold flavor – zesty, with fresh herbs, garlic, a hint of sweet honey, and savory spices.
Tuna steak is one of my favorite fish to make. It's so meaty and easy to cook and tastes delicious. This marinade for tuna steaks couldn't be any easier – it's full of simple ingredients you probably already have (think oil, honey, garlic, cumin, parsley). And all you have to do is put the altogether and let the tuna steaks marinade for 30 minutes and grill!
Cooking tuna steak is really easy! I prefer to grill it. You only need to grill tuna steak for 6-8 minutes on each side. You can also cook it on a grill pan or non-stick pan indoors or bake it in the oven at 400 degrees.
Ideally, tuna steak is best when cooked medium-rare and quickly over high heat. If you prefer your tuna steak well done, you'll need only a minute or two more on each side (depending on the thickness of your tuna steak). Be sure not to overcook it or it will dry out and not taste nearly as good.
Ingredients:
⅓ cup olive oil
1 tablespoon honey
1 tablespoon minced garlic
1 tablespoon finely chopped cilantro
1 tablespoon finely chopped parsley
1 teaspoon salt
½ teaspoon cumin
½ teaspoon coarsely cracked black pepper - or ¼ teaspoon ground pepper
½ teaspoon smoked paprika
juice of half a lemon - about 2 tablespoons