California Spaghetti Salad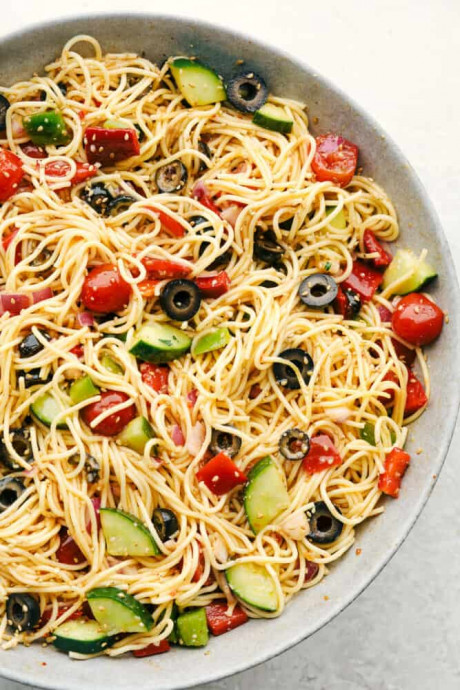 As the weather begins to change and warm up in the Spring, I find myself looking for recipes with a fresher and lighter feel. I especially love quick and easy cold pasta salads! This one only took 15 minutes to make and it was amazing! It is vegan-friendly so it is great to bring to a potluck! It is also super versatile! Have fun choosing colorful, fresh fruits and veggies you love to add in! I sometimes swap out the olives for sun-dried tomatoes and I love it that way too!
You really can't go wrong with this salad! It is great to make ahead because it tastes better as it sits. I love packing it for my kids in their lunches to change it up from sandwiches every day. We even love taking it on a picnic! It is such a treat! All of the amazing veggies packed inside add so much texture, flavor, and color to the pasta. The zesty Italian dressing coated throughout this pasta is so good. It is the perfect finishing touch to this pasta salad. It is easy to make at home and so incredible! I use it on tons of salads, not just this one! Trust me when I say that this California Spaghetti Salad will be a huge hit wherever it goes!
Ingredients:
1 pound thin spaghetti broken into 1 inch pieces
1 pint cherry tomatoes chopped in half
2 zucchini medium, diced
1 cucumber large, diced
1 green bell pepper medium, diced
1 red bell pepper diced
1 red onion large, diced
2 cans ripe olives 2-¼ ounces each sliced, drained
DRESSING:
1 bottle Italian salad dressing 16 ounces
1/4 cup Parmesan cheese grated
1 tablespoon sesame seeds
1 teaspoon paprika
1/2 teaspoon celery seed
1/4 teaspoon garlic powder