Mango Pineapple Crockpot Chicken Tacos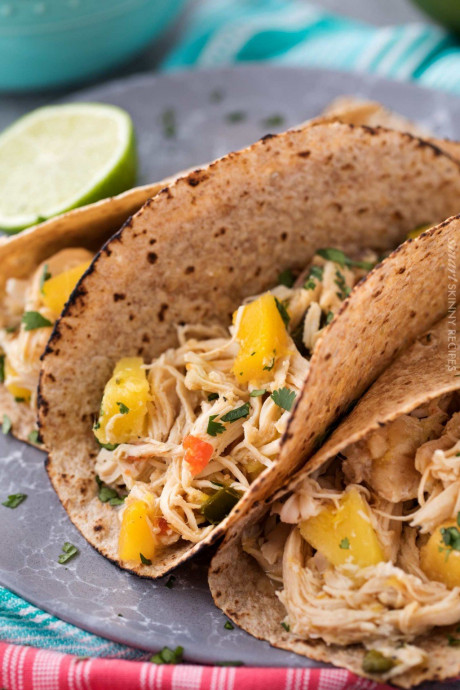 Deliciously sweet and spicy, these crockpot chicken tacos are full of great mango pineapple flavor. At only 1 weight watchers smart point per serving, they're perfect for a healthy take on taco night!
Taco night is a great family tradition, but can be a little on the unhealthy side. These mango pineapple chicken tacos are made easily in the slow cooker and are super healthy… only 1 smart point per serving!
Do you have an all-time favorite type of food? That one kind of food that you are ALWAYS in the mood for? For me, much to my husband's dismay, it's Mexican food. Burritos, taquitos, enchiladas, empanadas, chimichangas, nachos, tacos and more! I'm totally craving some Mexican food right now lol.
How to serve mango crockpot chicken tacos?
That's totally up to you! I purposefully didn't include tortillas in the nutritional information, as they can vary quite a bit from type to type. Alternately, you can wrap these chicken tacos up in a lettuce wrap, which adds no point value.
Ingredients:
3 lbs. boneless, skinless chicken breasts , trimmed of excess fat
1 1/2 tsp kosher salt
1/2 tsp black pepper
1/4 cup packed light brown sugar
2 mangoes , peeled and chopped
1 cup canned pineapple chunks in 100% juice , drained
2-3 tomatoes , chopped
1 small red onion , diced
1 large poblano pepper , seeded and chopped
1 jalapeno pepper , seeded and chopped
3 green onions , sliced
1 Tbsp fresh lime juice
1 tsp granulated sugar
fresh cilantro , for garnish
whole grain, low-fat or fat-free soft taco sized tortillas
Bibb lettuce cups