Chickpea Tuna Salad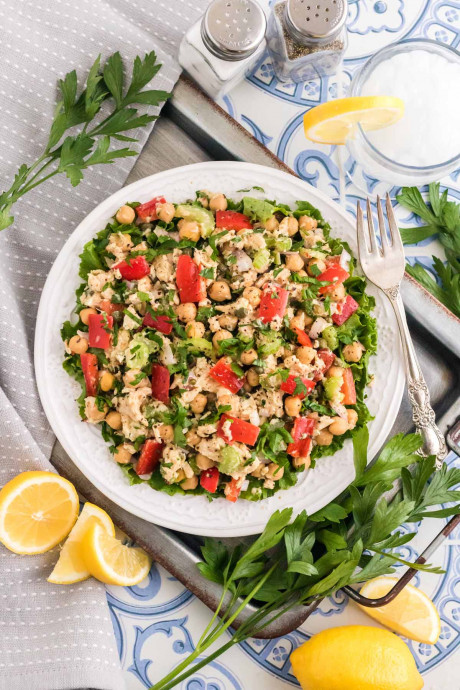 Chickpea Tuna Salad is a fresh and flavorful salad with a tangy Dijon dressing and crisp veggies. It's great as a side dish just as it is, add lettuce to make it a main dish salad, or use it as a filling for sandwiches and wraps.
Today's dispatch comes just as we're nearing the edge of winter here in Wyoming. And when I write "nearing," I mean that easy summer days are at least two months away.
So, it still feels a little too soon to be sharing summery, fresh chickpea tuna salad, but in the spirit of "hurry up warm weather," I figured, what the heck. For me, it's like a calling card of what's to come. Maybe for you, who might live somewhere with an actual spring season, it may be perfectly timed.
And it is very spring-y and light – a great lunch you can make ahead, or you can beef it up with other add-ins to make it dinner. It has chickpeas and tuna to fill you up, crisp veggies that add texture and flavor, and it's all tied together with a lemon-Dijon dressing with a punch of tang.
Ingredients:
1 (6-oz) can of tuna packed in olive oil
1 (15-oz) can chickpeas, drained and rinsed
1/4 cup capers, drained
2 cloves garlic, minced
2 celery ribs, chopped
1 medium red bell pepper, chopped
1 small shallot, finely chopped
1/4 cup lemon juice
2 tablespoons olive oil
1 tablespoon Dijon mustard
1 teaspoon kosher salt
1/4 teaspoon black pepper
1/4 teaspoon red pepper flakes
Chopped parsley for garnish