Brown Sugar Glazed Salmon Recipe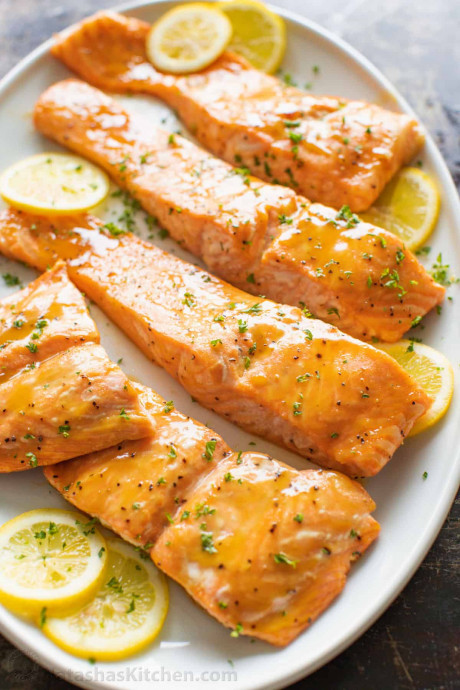 This homemade Glazed Salmon with brown sugar, dijon mustard, and lemon juice is the easiest roasted salmon. The glaze is sweet and sticky after caramelizing in the oven. Did I mention it's a quick dinner idea? There is no marinating required and it's done in less than 20 minutes. Watch the video tutorial and see how easy it is. This glaze is so simple and compliments salmon perfectly. It's sweet and savory with a hint of spice from the mustard. The splash of fresh lemon juice balances the flavors. Don't worry, it's more sweet than spicy and the kids never once complained about it being too spicy.
Brown sugar – we used packed light brown sugar which adds sweetness and caramelizes in the glaze. Dijon mustard – adds depth of flavor and we love Grey Poupon brand. Lemon juice – use freshly squeezed lemon juice to add some acid and balance the glaze. Salt and black pepper – we add this right to the sauce to save a step seasoning the salmon. Salmon – use 2 lbs of skinless or skin-on salmon, cut into 6 filets. This glazed salmon recipe is so easy that there really is no need to make ahead anything. However, if you wanted to you, you could cut up the salmon and arrange it on a baking sheet and stir together the topping in a separate bowl then cover both, and keep refrigerated until ready to bake. Spread sauce over salmon before baking.
Ingredients:
¼ cup packed light brown sugar
2 Tbsp Dijon mustard
1 Tbsp fresh lemon juice
1 Tbsp extra-virgin olive oil
½ tsp fine sea salt
¼ tsp freshly ground black pepper
2 lbs salmon, cut into six, 5 ½-ounce filets (boneless, skin-on, or skinless)
1/2 lemon, sliced for garnish, optional
1 Tbsp parsley, finely chopped to garnish, optional