Cheesy Spinach Stuffed Chicken Breasts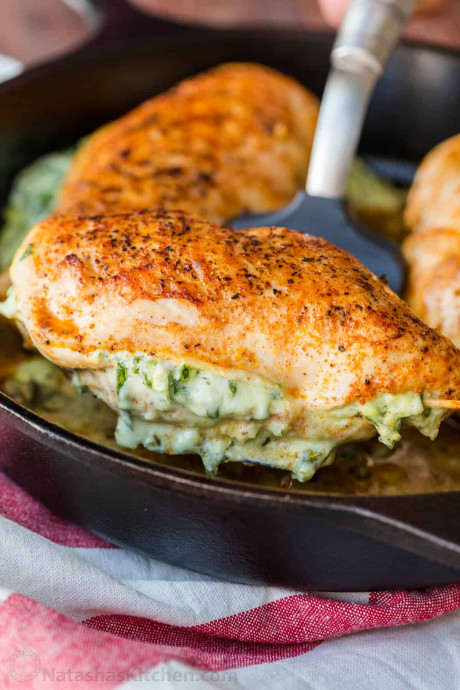 Creamy and cheesy Spinach Stuffed Chicken is so juicy and tasty. Searing on the stove then finishing it off in the oven ensures it is perfectly cooked in the center. Watch the video tutorial and see how easy it is.
The key to making great stuffed chicken breasts is to use even-sized pieces. This way they all finish baking at the same time. Some very large chicken breasts will have a strip of chicken tender meat attached. Remove tenders and use them to make Crispy Chicken Tenders. Chicken thighs are more difficult to seal and require a little more trimming of fat, but it would work to stuff thighs. Frozen spinach works if thawed and squeezed dry to remove the excess liquid.
Chicken breast is a lean protein so it can be challenging to reheat without it getting tough or having that reheated chicken taste. Stuffed chicken is best served fresh, but it does reheat well.
Ingredients:
For the Chicken Breasts:
3 large chicken breasts, boneless, skinless (1 3/4 to 2 lbs, even-sized pieces)
3/4 tsp salt
1/2 tsp black pepper
1/2 tsp garlic powder
1/2 tsp paprika
1 1/2 Tbsp olive oil
For the Filling:
4 oz cream cheese, cold
1 Tbsp mayonnaise
2 garlic cloves, pressed
1/4 tsp salt
1 1/2 cups baby spinach leaves, chopped
1/4 cup mozzarella cheese
1/4 cup parmesan cheese