Easy Raspberry Mousse Recipe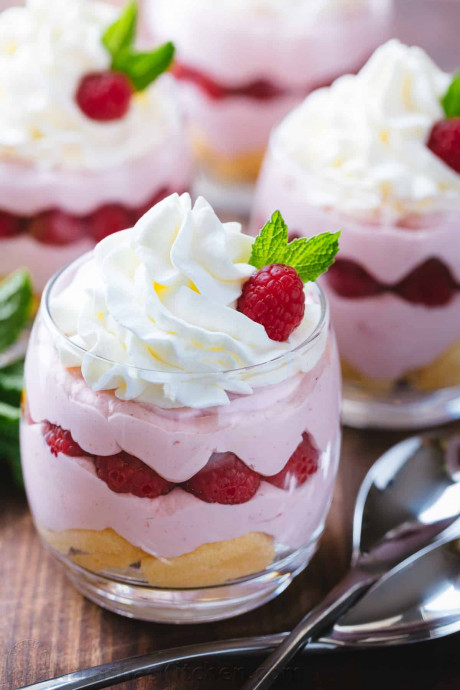 Raspberry Mousse has layers of fresh raspberries, ladyfinger cookies, and a sweet-tart mousse bursting with fresh raspberry flavor. This raspberry mousse recipe is served in individual cups is the mini version of our very popular Charlotte Cake except there's no baking required! You won't want to put your spoon down! I love that there are NO artificial colors or flavors in this raspberry mousse recipe. That beautiful pink is from real raspberries! It is an easy and impressive dessert.If you don't have a piping bag or frosting tip, you can always use a gallon-sized freezer zip bag and cut off one of the bottom corners to pipe the mousse then spoon on the whipped cream over the top.You can fully assemble, cover and refrigerate overnight so they don't absorb refrigerator odors.
To ensure the frosting and garnishes look their best, you can also refrigerate the mousse without the whipped cream on top and add that before serving. If you whipped the cream sufficiently until it's thick and pipeable, it should hold up either way.
Ingredients:
For the Raspberry Mousse:
10 oz 2 1/2 cups frozen raspberries
1/2 cup granulated sugar
2 Tbsp fresh lemon juice, from one med/large lemon
1 Tbsp Knox unflavored gelatin (from 1 1/4 packets
3 cups heavy whipping cream
6 Tbsp confectioners, powdered sugar
Filling and Garnish:
1/2 of a 7 oz pkg lady fingers
12 oz package fresh raspberries, reserving 6 berries for garnish
6 to 12 small mint leaves, optional garnish
For the Simple Syrup, stir together:
1 cup warm water
1 Tbsp fresh lemon juice
1 Tbsp granulated sugar