Chicken Pasta of your dreams!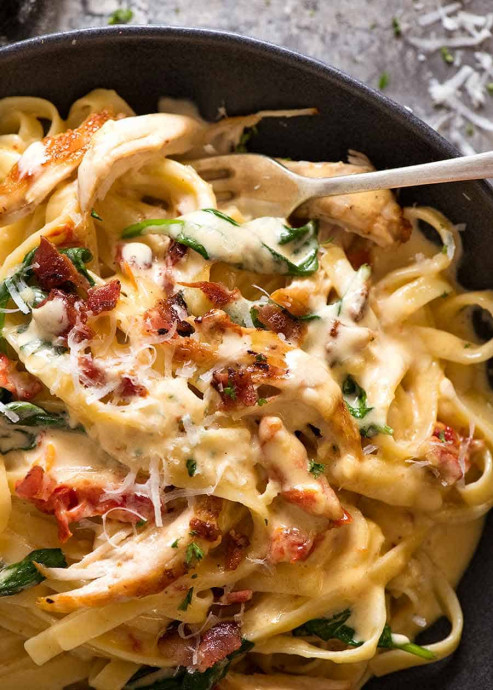 Meet the chicken pasta recipe of your dreams! Creamy Chicken Alfredo with sun dried tomato, spinach and bacon, you'll love how the seasoned shredded chicken acts like a mop for the alfredo sauce. A quick 20 minute dinner!This is the pasta you make when you've had a bad day and you need a pick me up.
This is the pasta you make when you've had a great day, and want to finish on a high note.
This is the pasta you make when you need a quick dinner that everyone will devour.
And this is the pasta that you make just because there are few things in this world that can rival the feeling of complete and utter satisfaction as you slurp down a big bowl of creamy chicken pasta!
Here's what you need. Just a quick note on a few of the items:
Wine – the secret ingredient! Wine gives the sauce that extra little something-something that gives the creamy Alfredo Sauce a restauaranty edge. If we're going to make a luxe creamy pasta, let's do it right! Non alcoholic sub – more chicken broth.
Parmesan – make sure it's either freshly grated OR use the store bought finely shredded parmesan that looks like small thin batons. Do not use the store bought sand-like parmesan, it doesn't melt properly in the sauce.
Sun Dried Tomato – you can skip this if you want, but it does give this pasta recipe an extra little za-za-zoom! I use the healthy no-oil strips, but you can absolutely use the type sold in jars in oil.
Ingredients:
300g / 10 oz fettuccine
30g / 2 tbsp butter , separated
2 chicken breasts , cut in half horizontally
1/2 tsp each salt and pepper
2 garlic cloves , minced
1/2 cup (125ml) dry white wine (sub more chicken broth)
1/2 cup (125ml) chicken stock / broth , low sodium
1 1/4 cups (315ml) cream , thickened / heavy
3/4 cup (75g) parmesan , finely shredded
70g / 2.5oz baby spinach
100 g / 3oz sun dried tomato strips
SERVING:
120g / 4oz bacon , cooked and crumbled
More parmesan
Parsley , for garnish (optional)