Raspberry Almond Ricotta Cake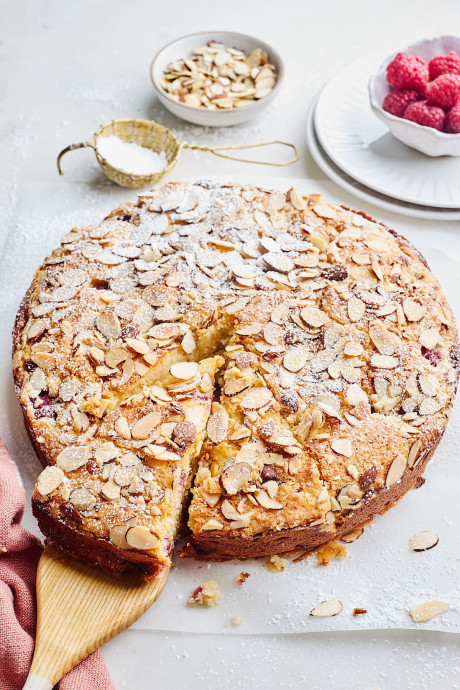 Raspberry almond ricotta cake- tender, moist ricotta cake dotted with fresh raspberries and topped with sliced almonds and confectioner's sugar. This elegant cake is easy to make and can be served for breakfast, brunch, or dessert.
I am so excited to share this raspberry almond ricotta cake recipe with you because it is one of the best cakes ever. Yeah, that is a big statement because i love a good cake, but it's true. This one is a winner!
So let me tell you why this cake is so amazing. It's:
Super simple to make (you don't even need a mixer)
Tender and moist (thank you ricotta cheese)
Dotted with juicy red raspberries
Flavor is perfection! (almond and raspberries are a match made in heaven)
Gorgeous
You can serve this beautiful cake for dessert or even breakfast or brunch! It is perfect for baby showers, bridal showers, easter, a summer picnic, a birthday celebration, or any day!
I guarantee you are going to love this ricotta cake recipe. It is definitely a favorite at our house!
Ingredients:
1 1/2 cups all-purpose flour
1 cup granulated sugar
2 teaspoons baking powder
1/2 teaspoon salt
1 1/2 cups whole milk ricotta cheese
3 large eggs, at room temperature
1 1/2 teaspoons pure vanilla extract
3/4 teaspoon almond extract
1/2 cup unsalted butter, melted and slightly cooled
1 1/2 cups raspberries, fresh or frozen
2 tablespoons turbinado sugar
1/2 cup sliced almonds
Confectioner's sugar, for dusting, optional