Healthy Carrot Cake Cookies (dairy free!)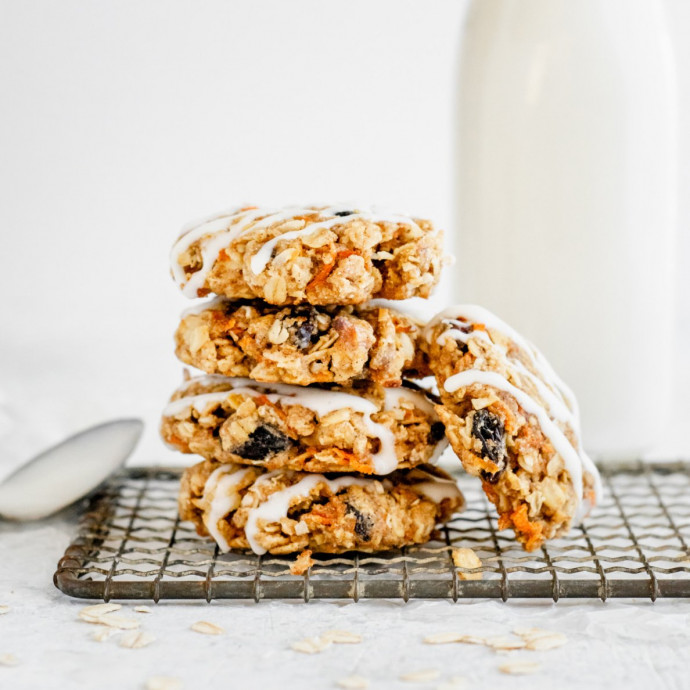 Delicious healthy carrot cake cookies bursting with coconut, raisins and pecans. These naturally sweetened carrot cake oatmeal cookies taste just like the carrot cake you know and love but are healthy enough to enjoy for breakfast!
These chewy carrot cake cookies were first made by yours truly back in 2014 aka the year I became obsessed with turning my favorite cakes and breads into healthy little bite-sized cookie versions. Since Easter and Mother's Day are right around the corner, I figured it was the perfect opportunity to share these glorious baby cakes aka healthy carrot cake cookies again.
I actually made these cookies three different times before deciding on this version. I tried one with brown butter, another with maple syrup instead of brown sugar and the last with more oats and a cream cheese glaze. I actually really loved all of the versions (especially the browned butter one!). However, I wanted these to be a great cookie nutrition-wise, be dairy free and also super tasty.
Ingredients:
3/4 cup white whole wheat flour or whole wheat pastry flour
1/2 teaspoon baking soda
1/4 teaspoon salt
1 1/2 teaspoons cinnamon
1/8 teaspoon nutmeg
1/4 cup coconut oil, melted and cooled
1/2 cup packed dark brown sugar (or sub coconut sugar)
1 egg
1 teaspoon vanilla extract
1 heaping cup shredded carrots
1 1/4 cups rolled oats
1/3 cup unsweetened shredded coconut
1/4 cup chopped pecans or walnuts
1/4 cup raisins
For the glaze:
1/4 cup powdered sugar
1-2 teaspoons unsweetened almond milk
dash of cinnamon