Spaghetti Peperonata with Tuna and Olives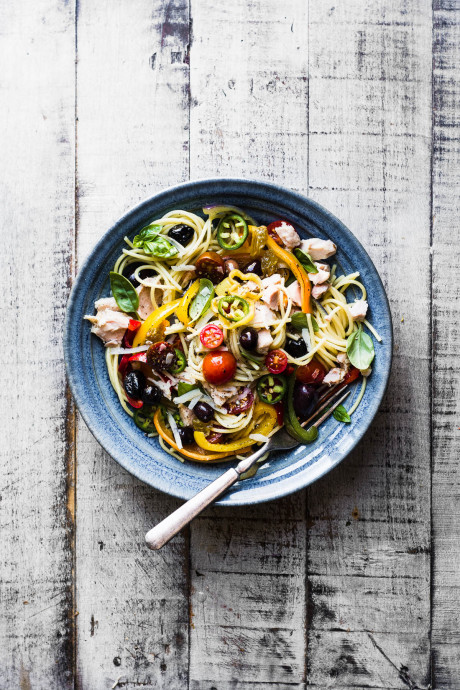 Spaghetti Peperonata with tuna and olives is a rustic Italian style pasta that's easy to throw together on a weeknight. It's an inexpensive, healthy 30 minute meal with that casual Mediterranean 'let's set up dinner in the vineyard tonight' vibe. Not bad for a box of pasta, some fresh peppers, and a can of tuna!
This authentic peperonata recipe combines always available pantry ingredients with a burst of fresh peppers and tomatoes. It's hard to believe that spaghetti with canned tuna and olives can be so fresh and vibrant. (Spoiler alert: it's the peppers!)
The Italians are masters at combining a little bit of this and a little bit of that into a simple masterpiece. They respect their ingredients ~ every one is top notch and earns its spot in the recipe. Good quality evoo and fresh garlic are a given. With this cast of characters you can't mess it up.
good quality canned tuna, I like to buy the Italian kind, packed in olive oil
thin spaghetti ~ I prefer thin because it's lighter. Be sure to cook it just to the al dente stage, which usually means a couple of minutes shy of what the package says. It should have a nice 'chew'.
fresh bell peppers, the more colorful the better.
fresh basil. I love to buy the living plants from my supermarket, they last and last.
glossy black olives (check out your supermarket's olive bar for the freshest.)
Parmesan cheese, and remember, it isn't true Parmesan unless it's marked Parmigiano Reggiano.
Ingredients:
olive oil
1/2 onion thinly sliced
3 cloves garlic minced
3 bell peppers assorted colors, cored and seeded and sliced in thin strips
1 jalapeño or Serrano pepper thinly sliced
1 small red chile pepper thinly sliced
1 cup cherry tomatoes halved
2 Tbsp yellow raisins or currants
1/2 cup kalamata or oil cured black olives pitted
5 ounce can albacore tuna in olive oil lightly drained
a large handful of fresh basil leaves sliced into thin ribbons (reserve some for garnish)
3/4 lb spaghetti
1/2 cup shredded Parmesan cheese