House Favorite Brussels Sprouts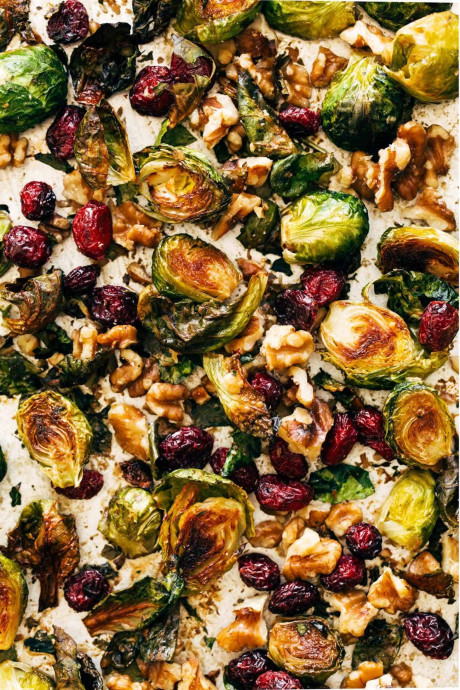 These House Favorite Brussels Sprouts are the best side veg and are speckled with bright bursts of cranberries and nutty walnuts. The perfect addition to any meal!
This is an SOS series recipe – as in, an excellent back pocket choice for when you just need to get something on the table quickly – so here's our super short and sweet ingredient list: brussels sprouts, walnuts, dried cranberries, maple syrup, Dijon mustard. And, of course, your standards: olive oil, salt, and pepper. The brussels get roasted, cut side down, until they are nice and crispy.
The walnuts get added for the last minute for a little toasting. The cranberries join the cool-down party. And finally, the sauce gets added directly to the pan. And by sauce, I mean an eyeballed little squirt of Dijon mustard and a solid drizzle of maple syrup. Get a little more olive oil, salt, and pepper up in there and ohhhkay yes. That was easy. We are in business.
Ingredients:
1 package raw brussels sprouts, halved
2 tablespoons olive oil
a pinch of salt and pepper
a handful of walnuts
a handful of dried cranberries
1 teaspoon Dijon mustard
2 tablespoons maple syrup
extra olive oil, salt, and pepper as needed